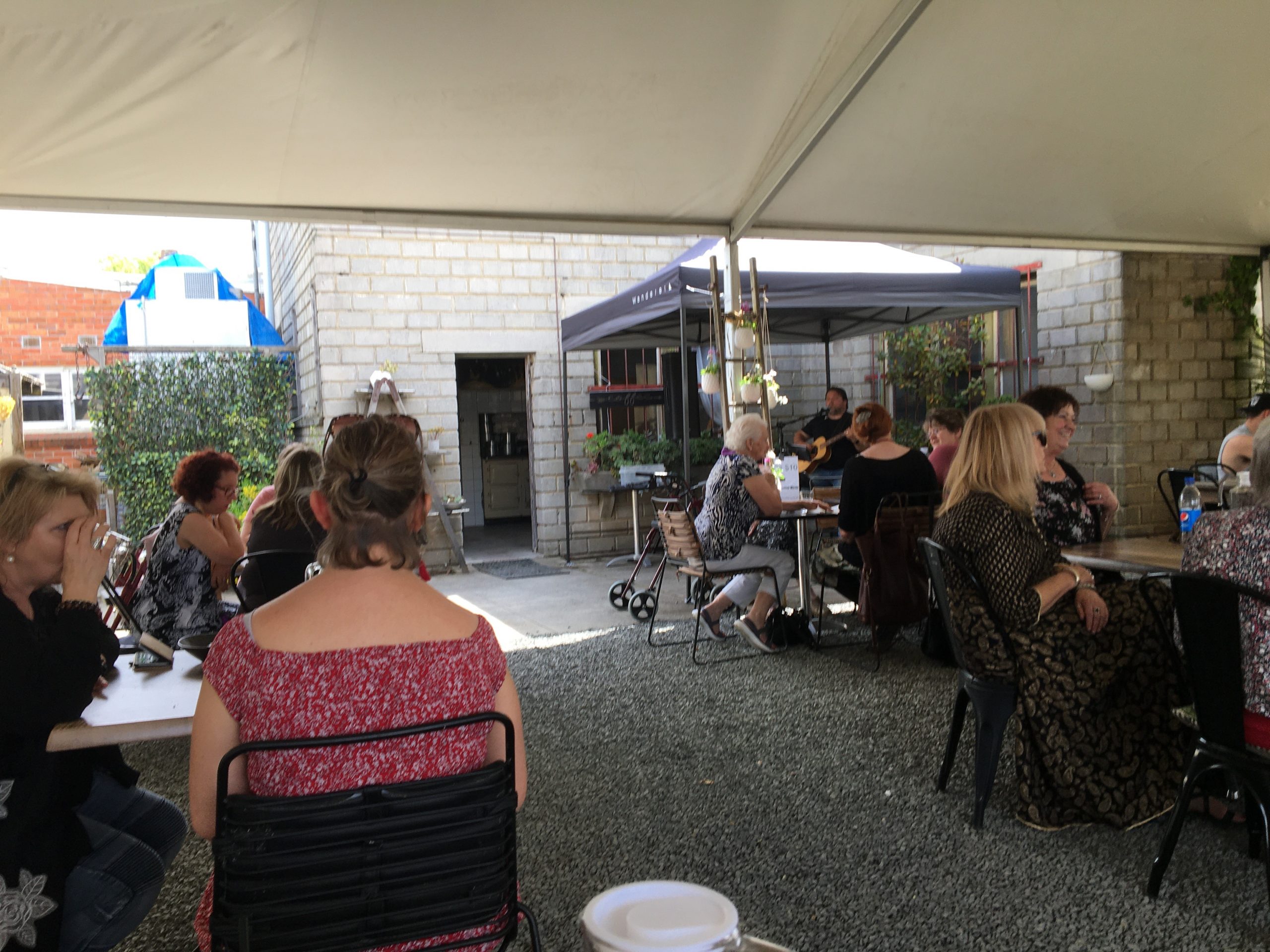 Peter Hill
CAFE AGA has brought back a small taste of live music to Yarram on Sundays.
Making use of its large outdoor space, the venue's marquee, the café has provided live music by Gippsland musicians for the past three weeks.
During the first weekend of the third step in the state government's 'roadmap' restrictions, Traralgon band Fields of White played, with duo Harmony from Foster on the last Sunday of September.
Co-owner Alexander Anderson explained the combination of Venus Bay musician Eric Collier and the delightful weather in early October proved a great success.
While customers had to pre-book to ensure the COVID-19 restrictions were complied with, the AGA marquee proved a pleasant location on the warm and balmy afternoon.
Eric played a wide range of acoustic blues, and cover versions of popular and well known country and rock songs, earning considerable applause from the diners.
"We had about 45 or 46 people dining outside in the marquee and could possibly extend the marquee further out to accommodate a few more tables with appropriate distancing," he said.
Alexander explained it was their intention to provide live music on Sundays, with internationally experienced performer Joe Matera booked to play last Sunday.
"I think we are uniquely positioned in Yarram to provide entertainment and a chance to socialise under the current restrictions," Alexander said.
"We have had people almost crying on the phone saying they had at last been able to get their sense of freedom back.
"It is hugely powerful for people to get that sense of freedom, to be able to see their friends, essential for their mental health and to also provide a powerful means of securing jobs locally."
He said the past few Sundays had also been a training ground for younger staff who were learning their roles in hospitality.
"It has been a bit of a rush getting staff up to full service on such short notice, after only being able to do online takeaway during the lockdown."
He said he and his co-owner, his mother Melanie, intended to provide as wide a range of services their venue could cater for with its two indoor rooms and outdoor tables at the front and in the rear yard marquee.