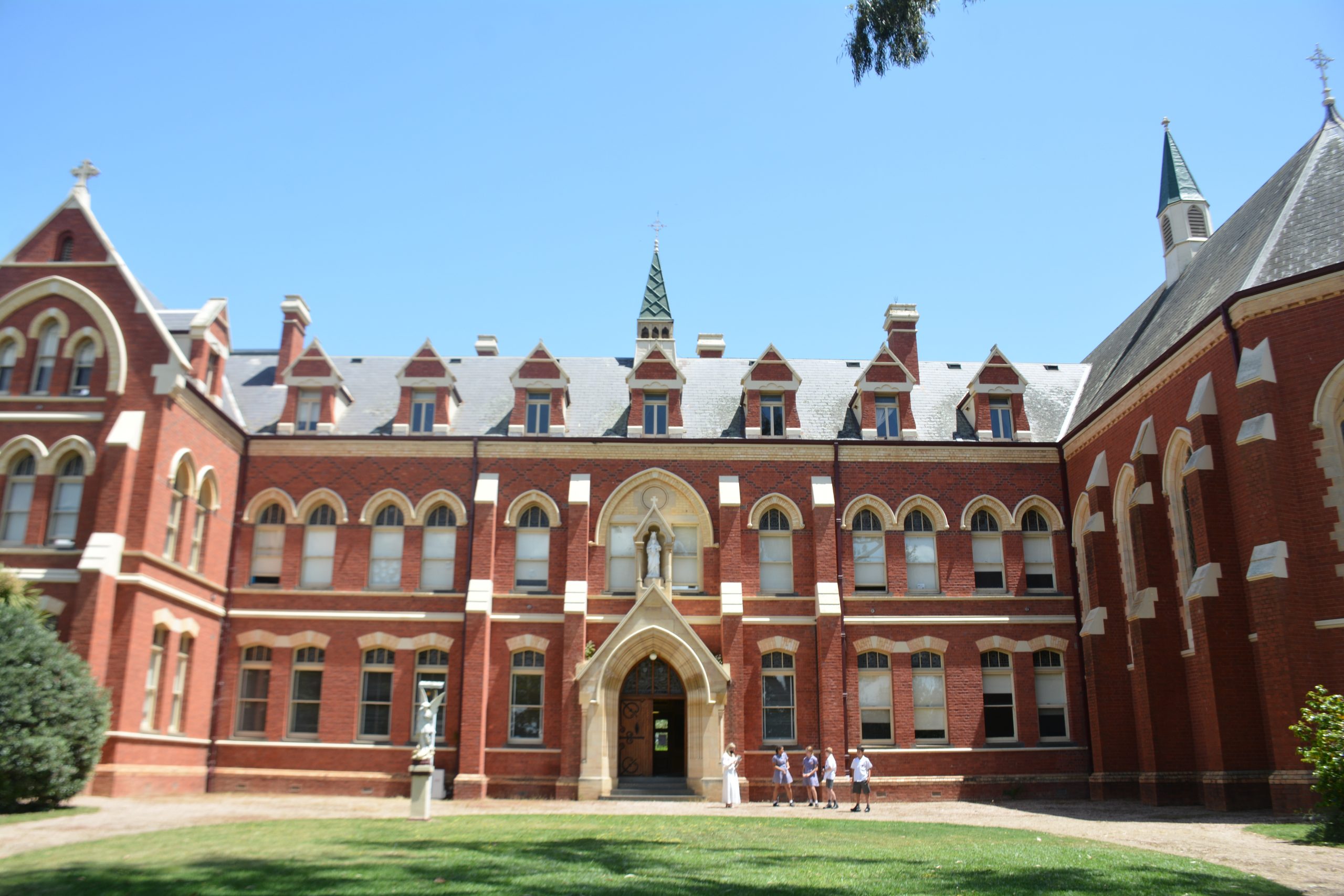 Sarah Luke
THIS year marks the 130th year of education at the historic Our Lady of Sion convent in Sale.
The origin of one of Sale's most iconic and intricate Gothic buildings lies in the persistence of an Irishman, determined to establish Catholic education in Gippsland, and a group of French nuns, determined to do it their way.
Fresh from the Great Famine in Ireland, priest James Corbett found himself a long way from his Limerick home, after answering the call to minister in Australia in 1863.
After handling the pastoral charge of St Kilda for some 24 years, he was promoted as the first bishop of the newly-formed Diocese of Sale.
In the 1880s, Sale was flourishing – founded in the 1840s, Sale hit its stride in the 1860s when gold was found in the mountains.
It became a transport hub, connected to Melbourne via a new road and railway line, and the major town in Gippsland.
Bishop Corbett wanted to provide Sale with Catholic education, but unfortunately, he had no one to work for him.
And so, he travelled to America and Europe to try and convince priests and religious orders to work in Sale, Gippsland, Australia – a mere 42 days away via boat.
Asking the Mother General of the Sisters of Our Lady Sion in Paris for nuns to travel back with him to teach, she initially remarked she could not ask any of her sisters to go to "the Antipodes" – but relented the next day and chose seven nuns to go to Sale, led by Mother Raphaela.
The troupe – Bishop Corbett, six Irish priests and the seven Sion sisters – arrived at Sale Rail Station to a cheering crowd of 5000, which was 1000 more than Sale's population at the time.
The sisters, with limited knowledge of English, now bore the responsibility navigating a completely foreign country to establish a school.
The sisters took up residence in the Bishop's house, next to St Mary's Cathedral, took control of the 100 boys and girls already attending the school, and established a secondary school, with Mother Edwardine at the helm – but they had their sights set on something bigger.
Despite the bishop's preference for a school site to be established near his house overlooking Flooding Creek, mosquitoes, among other things, made the sisters examine other options.
In 1891, the sisters bought 'Tracy's Paddock' – eight acres bordered by York, Raymond, Raglan and Codrington Sts – to build a beautiful Gothic convent, designed by Mother Raphaela and architects Reed, Tappan and Smart, who also designed Bendigo's famous Sacred Heart Cathedral.
A number of statues in the building and grounds were shipped in from Paris, and materials for the convent were sourced from around Victoria – including bricks from a kiln across the road in Raglan St.
The convent cost £10,000 in total, and the sisters raised every cent of it for its completion in 1893, however Mother Raphaela felt the works would not be complete until a chapel was built.
Now permanently in a wheelchair with a debilitating spinal illness, Mother Raphaela scrutinised the builders' handiwork to ensure the new sanctuary was perfect, even requesting to be hoisted into a niche in the new chapel after the builder changed its proportions, suspecting something was off.
Said niche then had a vista nestled in behind the Our Lady of Sion statue, painted on canvas in the convent's front office by famous Italian artist Girolamo Nerli, during his tour of Australia and New Zealand in the late 1800s.
Mother Raphaela died 16 months after the chapel opened in August 1901, and one of Catholic College Sale's six houses is named after her.
In the school's early days, students arrived via horse and coach, and stayed as boarding students for most of the year.
During Our Lady of Sion centenary celebrations in 1990, Betty Bourke (nee McCarthy) who boarded during the war years, recalled the majority of the students also boarded during her days.
"… day scholars were from Sale only, as in those days Catholic children were not carried daily to Catholic schools on the government run school busses, so students from outlying areas went to their local high or technical school for secondary schooling," she said.
"As boarders, we learnt to accept people as they were – the girls came from all works of life, and we were as one big family.
"The sisters always stressed the importance of the family unit, the importance of self respect and the dignity of the person.
"I have fond memories of many of the nuns who were at Sion in those days – I counted 42 sisters as they processed to Holy Communion one morning."
"Thank you Sisters of Sion for being friends, guardians and mothers, all wrapped into one."
Students participated in house sports carnivals, cricket matches, tennis on the convent's own courts, music, art-of-speech, needlework and eisteddfods.

The nuns drummed into the girls to be neat and tidy so they "wouldn't dare" not wear a hat, gloves and blazer outside of school, and the girls had prayer multiple times a day.
In 1913, a block was bought in York St opposite the convent as the site for an orphanage to train and educate girls, later moving onto the convent's grounds near Codrington St, until it closed in 1947.
In 1967, the more modern building facing Raglan St, which contained a home economics room, art room, science laboratories and a theatre was opened, under the guidance of Sister Geraldine and Sister Rose Francis.
In 1970, Sister Elizabeth Allman became principal of the school, at the helm for Sion's most transformative years.
There was an increase in the number of students travelling via government busses from Seaspray, Heyfield and Maffra, and boarders in Forms 1 to 4 were phased out.
In 1974, Form 5 and 6 classes were combined at Sion and St Patrick's College for boys, which had been established by the Marist Brothers in 1922, after both schools faced difficulty in attracting teachers but had smaller class numbers.
Form 5 had classes in the morning at Sion and at St Patrick's in the afternoon, and vice versa for Form 6, bussed to either campus via the "Banana" or "Yellow Peril" school bus.
In 1975, a committee established by the two schools decided to investigate restructuring Catholic education in Sale, and in 1976, it was decided Catholic secondary education would be undertaken as a single system, across different campuses.
The girls in Forms 1 to 4 would be hosted on the Sion site, with the boys in Forms 1 to 4 at St Patrick's, with a co-educational senior secondary school at a third campus, the John 23rd Campus, for Forms 5 and 6.
From 1993, the college became completely coeducational, with Years 7 and 8 students at the Sion campus and Years 9 to 12 at St Patrick's campus, which now incorporates the John 23rd building.

This Thursday afternoon, another chapter will close in the history of the convent, as the building farewells its students, and awaits a decision from the Diocese of Sale, in order to write its next chapter.