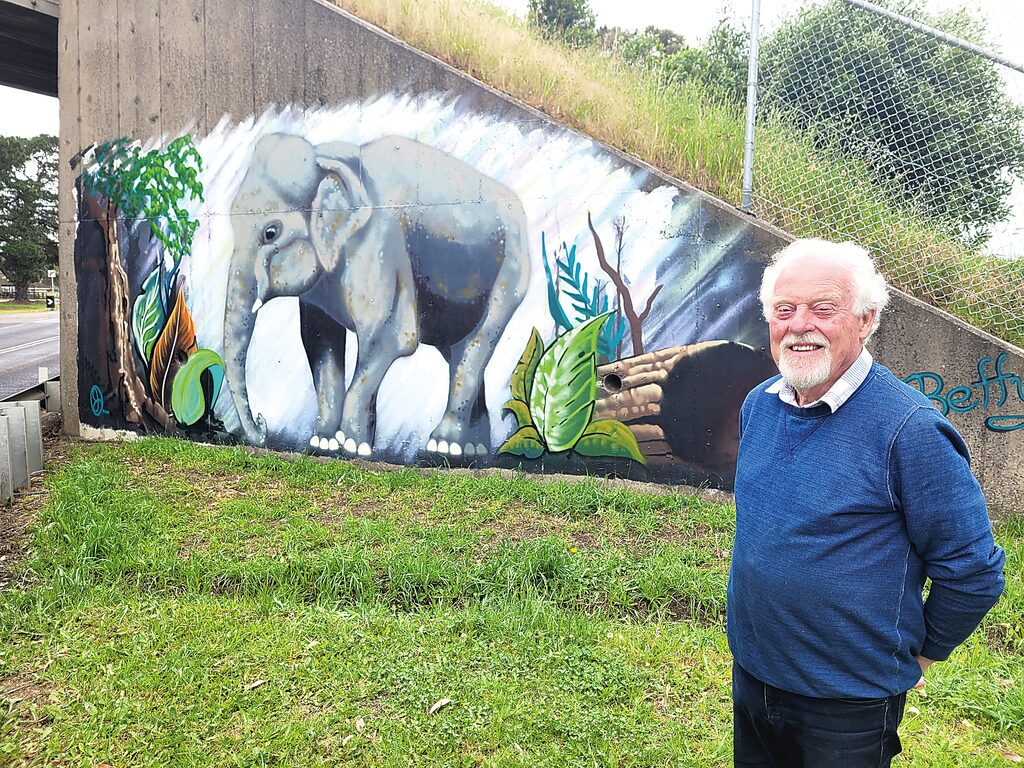 Josh Farrell
Residents travelling along the Princes Highway towards Stratford are now being treated to a mural from local artist Jeremy Kasper.
The mural was commissioned by Gavan Donoghue, and celebrates one of the region's most famous tales — the story of a travelling circus with an elephant that came through the region.
The story goes that the elephant stuck its head out the top of the truck striking the viaduct, that it died and was subsequently buried nearby.
While the story has never been proven and the remains of the elephant have never been found, it makes for a fascinating yarn, and Mr Donoghue is ensuring it lives on.
Mr Donoghue has been passionately researching the story — setting out to prove the truth behind it.
He says he is getting closer and will be releasing a second book with updated information later this year.
Working to get the mural in place has been somewhat of a task.
"It has taken about six months, dealing with V/Line, VicRoads and the council," Mr Donoghue said.
"Council jumped on board straight away.
"We had a few hurdles to overcome to ensure the mural was safe, which is what made it take longer," he said.
The mural will ensure one of Gippsland's great fables lives on, with many residents alive at the time claiming they heard the thud on that fateful night.
Those visiting the site will spot the message, 'To Betty' which pays homage to what Mr Donoghue believes was the name of the elephant that struck the railway viaduct.
"I am certain an elephant hit its head, but whether it died or not is unclear," Mr Donoghue said.
Through his numerous interviews he has confirmed that Sole Brothers' Circus did come through Sale in 1951, but whether the event occurred and the elephant did in fact die remain unclear.
The story of the elephant hitting the bridge has even made it as far as New Zealand, with residents of Stratford on the country's north island believing the event occurred in their town.
But Mr Donoghue says it is Gippsland's Stratford which was home to the story.
He believes Betty is the elephant that struck the bridge, but thinks she survived, although was affected by the accident.
"It seems she went on to live her life, but people say that she went crazy after it happened," Mr Donoghue said.
While it is not certain exactly what happened on the Princes Highway, local residents will have a permanent reminder for years to come.