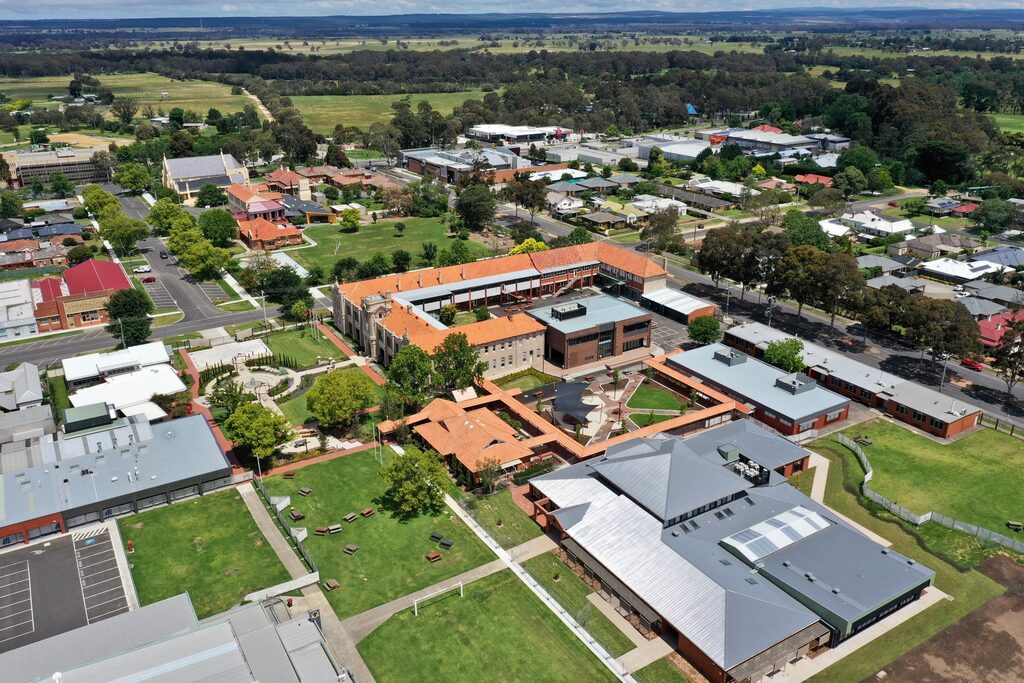 Police have arrested two males in relation to an incident at Catholic College Sale yesterday afternoon, where an intruder allegedly carrying a knife sent the secondary school into lockdown.
About 1.50pm, two teenagers allegedly engaged with several young students through the college's security fence on the north side of the campus.
Two staff members intervened, and allegedly received several "unfavourable comments" and had the contents of a drink can thrown at them through the fence.
After a third staff member arrived, the two teenagers moved away.
About 15 minutes later, the two teenagers reappeared on the south side of the campus at the only open gates to the college.
One of the teenagers, who appeared agitated, entered the campus and moved quickly towards the school's John XXIII building.
Several staff members on duty witnessed this, and moved quickly to intervene, with one brave staff member standing in front of the intruder, enquiring who he was and where he was going.
There was some alleged slight physical contact, as the intruder pushed past the staff member – who believed his hand was being pushed away.
A quick reference between the staff that had intervened came to the conclusion that the intruder was allegedly carrying a knife, as the staff member had sustained a cut to his hand.
After all students had been moved away from the area, the intruder lost focus, and turned back across the campus leaving through the gate that he entered.
The college was moved quickly into lockdown, with all students being moved indoors.
Police were notified, and all gates were closed.
Police appeared a short time later and apprehended the two teenagers several blocks away.
Students and staff involved have been offered counselling, and relevant parents contacted.
The school sent an SMS to all families to confirm an incident had occurred, and that all students and staff at the college were safe and that the college had returned to its normal routine.
The intruder was not known to anyone at the college, and the two males that were arrested are assisting police with their enquiries.
Police have also conducted interviews with relevant staff.
Catholic College Sale principal Chris Randell commended all staff for their "quick actions in assuring the safety of students", but particularly noted the brave action of the staff member who confronted the intruder.
"The staff member received a cut to his hand after which the intruder left the campus," he said.
"A number of staff were quick to support the staff member and ensure the safety of all students.
"Again an enormous thank you to all staff involved, and the quick response of students to move to a lockdown status.
"The incident is now a matter for police investigation."