Stefan Bradley
Olivia Grace Stevens saw the world in a different way.
According to Olivia's mother Yana Stevens, she saw life from a happy angle.
"Olivia loved the world, she loved people, she loved nature, and she loved art," Yana said.
While Olivia may no longer be here, her love of the world, and Olivia herself, has been memorialised in a wonderful mural painted on the side of Heyfield Family Dental Care, where Yana is the principal dentist.
Olivia was six years and nine months old when she was tragically killed during a playdate on September 11, 2021.
"Bye Mum, I'll be fine," were the last words Olivia said to Yana as she dropped her off at the playdate.
Olivia and six other children, all under 10, were passengers on an ATV buggy when it rolled over at a farm in Rosedale. Olivia was airlifted to hospital, but she died from her injuries. The other kids survived.
The driver of the ATV buggy, who was a friend of the family, has been charged over the incident.
Yana said the family's world was completely turned upside down that day and will never be the same.
"We miss her every day. We cry for her every day. We wake up and think of her, and then go to bed thinking of her," Yana said.
"People need to be careful with children's lives. You can never recover from it. You learn to live with it, but you cannot replace a child."
Olivia's tragic passing immediately had an effect on the community.
"Farmers tell me that Olivia's legacy is their greater focus on safety. They say they don't allow children to go on ATV buggy vehicles anymore. They are for work, not for fun," Yana said.
"Even if we're not farmers ourselves, anyone like us can find themselves on a farm, where things do happen. I just think adults need to be more careful around children on a farm."
The family wanted the memories of their precious child with a big kind heart to keep going, and eventually the idea of a mural came along.
The mural was painted by Loch Sport-based artist and designer Simon White.
The mural shows Olivia blowing kisses with butterflies and surrounded by majestic pink flamingos and rainbows.
It's full of colours and happiness, just like she was.
"One of Olivia's favourite songs was 'Pink Flamingo', which is about pink flamingos flying in the sky. She was learning the song on the ukulele," Yana said.
Mr White, who is known for his murals, classic portraits, landscapes, and urban street scenes, immediately said yes to Yana's request when she reached out. The design is based on a photo that Yana took of Olivia in August.
"Yana and I discussed the mural over a number of months," Mr White said.
"I was nervous and anxious, but Yana was so supportive, and she helped me make corrections to Olivia's face, which I wanted to get right. It took me three days to paint, but I started from 7am and worked until about 8pm.
"I wanted to create something that shows Olivia's bright side and her personality. So I introduced a lot of colours. The pink flamingos and butterflies create that happiness. I never met Olivia, but members of the community, from ages 5 to 85, told me she was a lovely person who could connect with everyone. I really wanted to convey that."
"We are forever grateful to Simon White for Olivia's mural," Yana said.
"We have many people drive in from different areas of Victoria just to come visit Olivia's mural and take photos of it."
Olivia's two brothers, Kobi, 9, and Thomas, 2, miss her very much and remember her every day.
Their dad Scott loved Olivia so much, and recently bought a pink ukulele to put in her bedroom. Olivia's friends at Gippsland Grammar continue to leave letters at her grave.
Olivia found serenity and zen sitting on the side of the river, listening to water, and drawing on rocks.
Olivia's grandmother Maree Stevens continues this by drawing beautiful creations on rocks and leaving them around Heyfield Wetlands or the playground, signing them OGS for Olivia Grace Stevens.
Yana hopes the mural will keep Olivia's legacy going for years to come.
"She used to stand up to bullies and protect children around her, even though she was a tiny, petite little girl, she had that strength inside her and resilience," she said.
"I was always amazed at how strong she was, she used to teach people to be nice."
On the corner of the mural you can find Olivia's poem which she wrote at the age of 5, sitting on the beach on Apollo Bay in the late evening and observing the world around her.
It reads:
The moon is shining
The birds are singing
The flowers are growing
The people are walking
The children are playing
The stars are glowing
And everyone is happy.
– Olivia Grace Stevens
Olivia's poem was the final part of the mural painted by Simon White. Photo: Stefan Bradley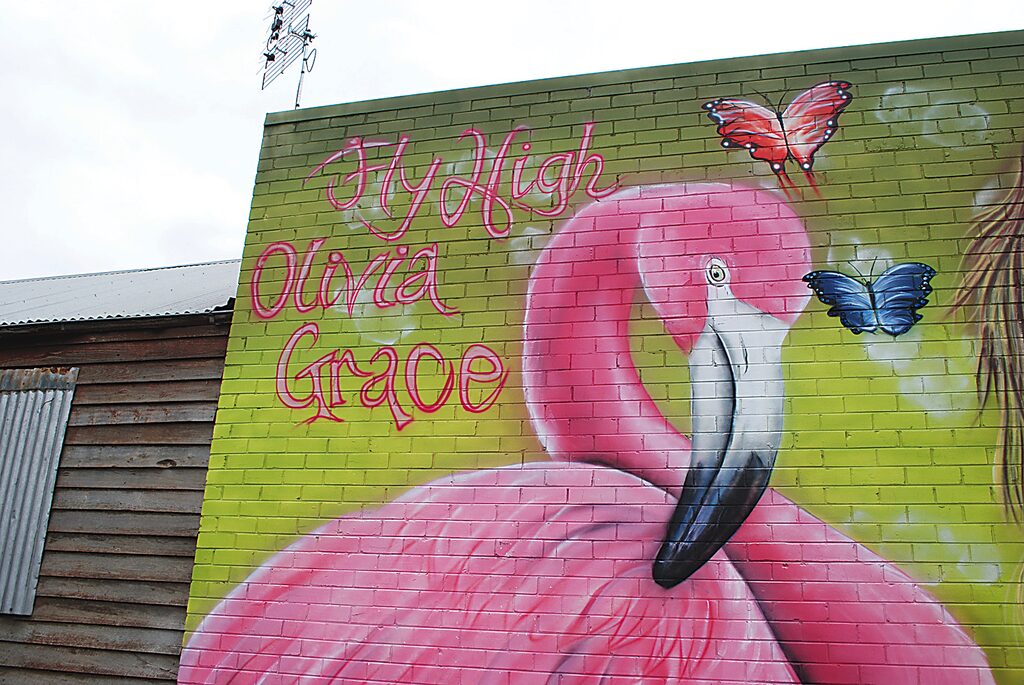 Photo: Stefan Bradley
Olivia's mother Yana Stevens.