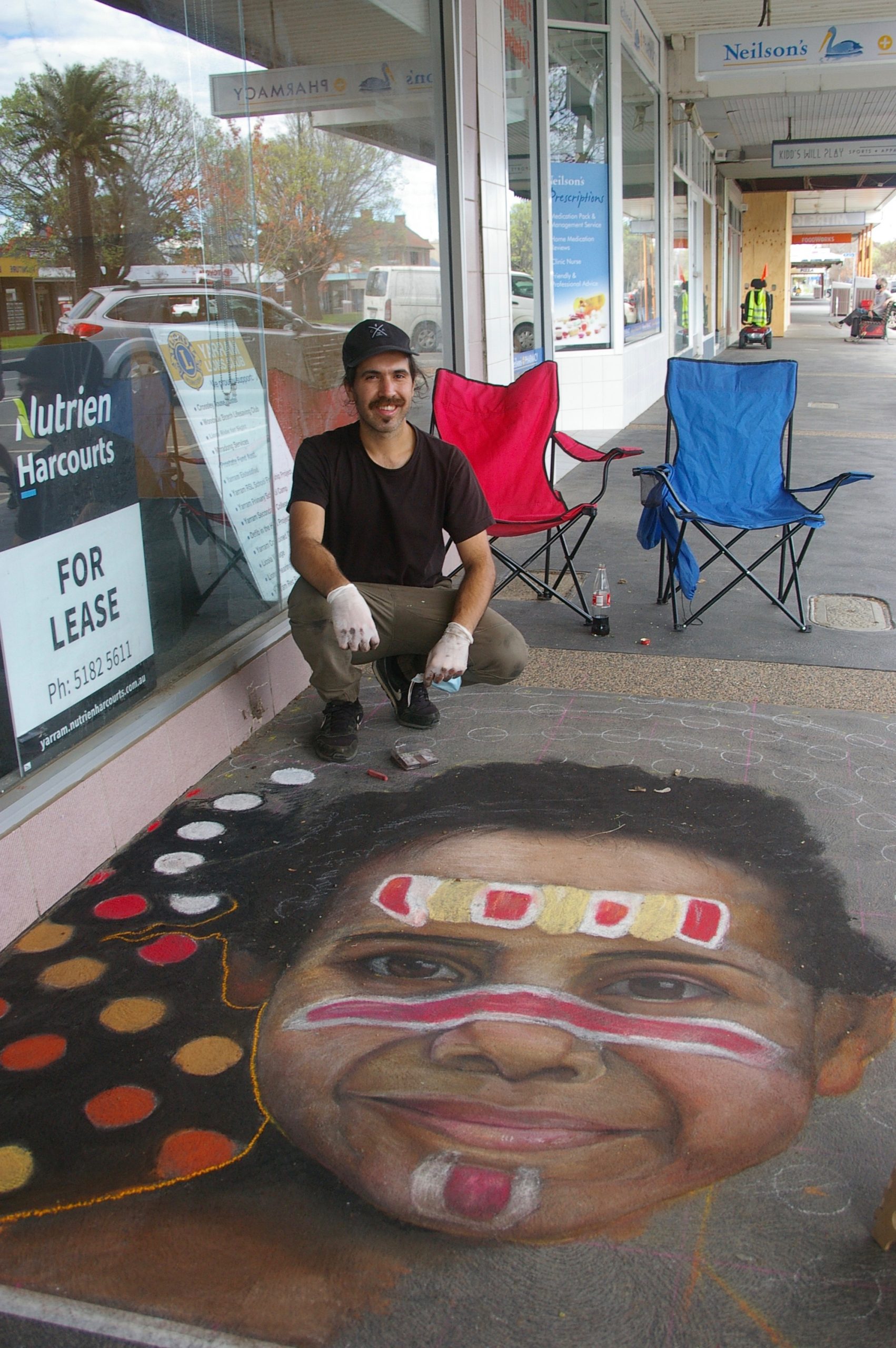 Peter Hill
YARRAM Traders and Tourism Association president Matt Langdon's new venture Artichoke Books has chalked up a winning way to open for business.
World-class chalk artist Lautaro Musse has created a temporary masterpiece on the footpath outside the bookshop.
Lautaro and his girlfriend had arrived in Melbourne from Italy, where they have lived for the past two years, for an international chalk art festival just before the coronavirus pandemic hit Australia.
"We came to Melbourne for the art – it's world wide known for its art," he said.
However the festival was cancelled and his plans to return to Argentina for Chalktoberfest 2020 have had to be put on hold because of the collapse of international flights.
"Then with the virus we decided the country, a rural area, would be safest," Lautaro explained.
Through connections with some fellow South American travellers, Lautaro has been staying with a group of backpackers in Port Albert where Matt made contact with him.
Being frustrated in his artistic pursuits, Lautaro offered to create a chalk art display for Matt, in addition to painting an enchanting mural on the internal wall of the book shop.
The colourful mural was initially planned as a world map, but became a child's face from each of the world's continents, emphasising the world's diversity of cultures and people.
Matt is the founder and chair of the Hero Construction Company, a facilitator of conferences across the world empowering people to become the hero rather than the bystander.
With the collapse of world travel and pandemic restrictions in place, Matt's international business has been placed in hibernation.
He has put his belief in the future of Yarram into action and hopes to capitalise on the tourism being created by the Heesco Town mural trail.
In the brief interlude between stage three coronavirus restrictions, Yarram experienced a surge in day trippers and tourists, stopping at the bakery and coffee shops and following the murals around town.
Observing the behaviour of visitors in the town, Matt decided an additional retail attraction was needed, and as Yarram did not have a book shop he decided to open one.
"I decided to give it a shot," he said.
"Yarram needs a bookshop, a sort of hangout place.
"We plan to have tables so people can hang out and read and create a sense of community.
"And I have had strong local support – there's lots of readers in the community and people interested in games and puzzles."
A children's sensory activity area and fairy house are being built at the rear of the bookshop so parents with small children will be able to browse while their children are entertained.
In collaboration with the new proprietor of a specialty ice cream and confectionary shop soon to open in the former Yarram Standard office, Matt hopes to return a sense of vibrancy to the Victoria Arcade which his shop adjoins.
They have plans to turn the open courtyard at the rear of the Standard office into an attractive meeting place with seating, and eventually have Lautaro paint a mural on the west-facing wall of the opportunity shop.
"We hope to have this place really buzzing," Matt said.