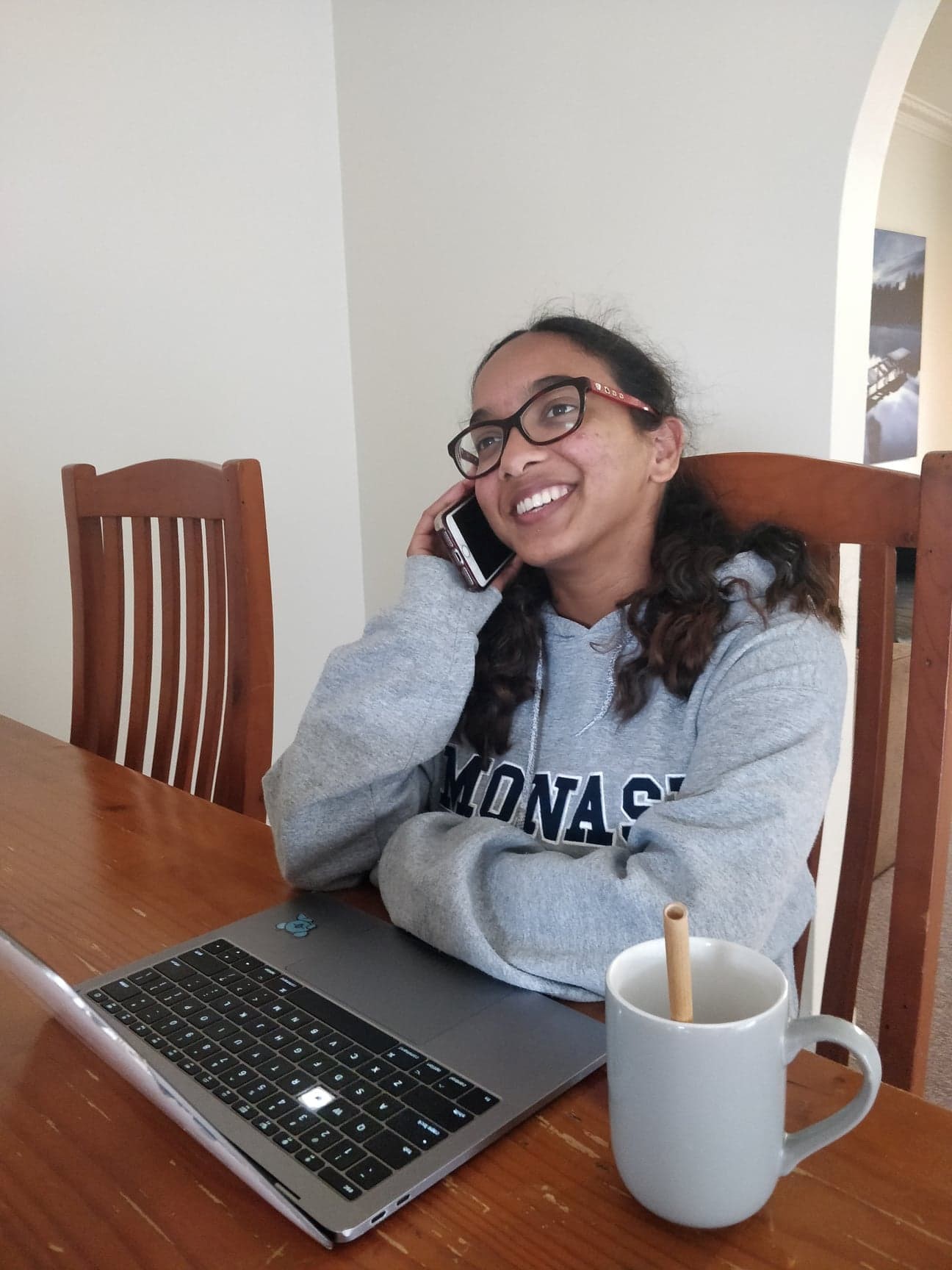 MONASH Medical students are reaching out to Gippsland communities in a publicspirited initiative to help keep people connected during COVID-19 restrictions.
Volunteer and medical student Dewmi Abeysirigunawardana said 'Conversation in Isolation' was an initiative by furloughed students to provide social support to people self-isolating because of COVID-19 "one friendly phone call at a time".
Ms Abeysirigunawardana is a third year Monash University medical student, currently living in Sale for her placement this year.
She said since COVID-19 social distancing restrictions began, the program had grown to include 200 volunteer students who were matched to 200 people around the state.
The program began with a focus on the elderly, but had grown to include anyone in need of a friendly chat, and now had participants as young as 18.
"It's really just about being there to listen and chat, giving people an outlet in these difficult times," she said.
"We have found that a lot of people in isolation don't have any way to vent, and we have taken the socialisation that goes on in everyday situation for granted.
"Just going to the shops or being out and about helps people stay connected, when they can't do that it can be very difficult, especially for people in aged care."
Ms Abeysirigunawardana said participants and volunteers filled in information cards so they could be best matched, based on community members' preferences, interests and backgrounds.
"Our volunteers are encouraged to call once a week, but it depends on what suits the needs and the availability of both callers," she said.
"So we have some pairs touching base daily and others only every fortnight.

"We also encourage our volunteers to check in occasionally with their partner's wellbeing — are they staying active, are they making time for hobbies, are they cooking healthy meals – and the rest is what they make of it!
"I know one of our volunteers has really enjoyed doing general knowledge trivia questions over the phone with their caller.

"Our service is about providing informal social supports and we're very careful to make it clear that we aren't qualified yet to give medical advice or to provide psychological counselling.
"What we do is listen, like a friend.

"We would be supplementing more formal services."
Check-in calls will range from discussing the coronavirus to venting about life, and TV recommendations.
Ms Abeysirigunawardana said the feedback so far had been good, with staff and residents at nursing homes reporting that regular calls help create a routine and give the residents something to look forward to each week.
"In one case, I was told that an elderly resident who was receiving calls from one of our volunteers had really begun to come out of their shell and engage more in activities with other members of the nursing home too, which is wonderful to hear," she said.
The program was also beneficial for student participants, Ms Abeysirigunawardana said, with volunteers reporting an increased sense of well being.
The volunteers are mainly students in health degrees such as nursing and medicine, who represent a diverse range of ethnicities, religious beliefs and gender identities, which helps then connect with a diverse group of community members.

Participants undergo an interactive induction training session and some online resources for volunteers that prepare them for dealing with difficult encounters and ensure that they look out for their own wellbeing in what can be a challenging role.
People in isolation who would like to participate should phone 0492 837 888 or go to the website.