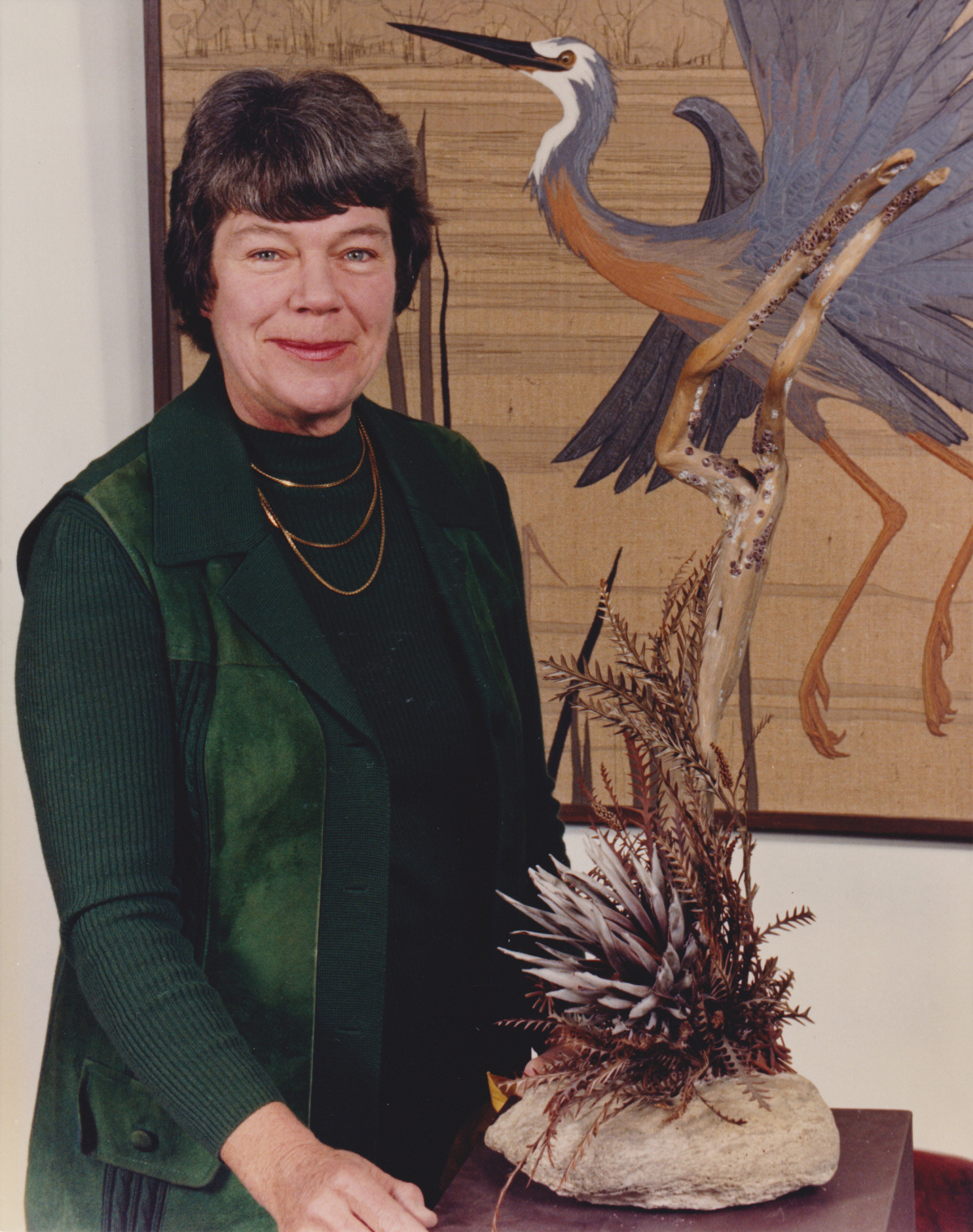 Gippsland Art Gallery director Simon Gregg with assistance from Evan and Marian Webb, Annemieke Mein OAM and Phillip Mein, and Brian Castles.
WITH the passing of Gwen Webb OAM at the age of 98, Gippsland has lost one of its greatest advocates and a friend to artists everywhere.
A true one-of-a-kind, Gwen was a champion of the region, putting the Sale Regional Arts Centre (now Gippsland Art Gallery) on the cultural map during her 15-year tenure as the gallery's inaugural director from 1976 to 1990.

Gwen achieved much during her time in the role, including promoting visual arts across the region, providing a platform for craft (especially textiles and woodwork), and bringing art to a wide audience.

Gwen earned the title of 'the lady who opens doors for people' because, as her friend Pam Frew wrote in 1993, 'her vast experience and knowledge of the arts, accounting, natural history and the environment was always eagerly shared to help others achieve success'.
Gwen earned the respect of all who came to know her for her courage and dedication to her many causes, which aside from the arts included education and the natural environment.
It was, however, as the inaugural director of the Sale Regional Arts Centre that she is likely to be best remembered.
During Gwen's employment from 1976 to 1990 she provided transformational leadership not only within the gallery, but across the wider art scene.
Her achievements were in spite of extremely limited resources, which she overcame by uniting the community behind her and the gallery to an extent that has not been seen before or since.

Gwen's directorship followed four additional years as treasurer of the committee of management from 1971 to 1975.
Gwen fearlessly steered the gallery through a period of tremendous growth and transition, and of equally tremendous challenges, which never seemed to daunt her.
Six directors have followed Gwen since her retirement in 1990, and yet she is the one who is most often cited, and most often recalled. Opposed to elitism in all its forms, it was Gwen who claimed the gallery as being 'for the people'.
The move from its original premises above the Sale Library in Macalister St to a shopfront space in Raymond St in 1989 was, according to Gwen, the best thing for the gallery as it made the arts much more accessible.
Among the many highlights of Gwen's career was the annual exhibition of Gippsland craft artists, which in the late 1970s led to the debut exhibition of world-acclaimed, Sale-based environmental textile artist Annemieke Mein OAM. Gwen and Annemieke enjoyed a close friendship for more than 40 years.
The craft exhibitions also led, in the 1980s, to residencies for weaver Ann Greenwood and woodworker John Woollard.
She fought tirelessly for the recognition of regional artists in the broader arts community, but it was Sale and more broadly Gippsland that benefitted most from Gwen's lifetime's work.
Gwen was born at Rochester (near Echuca) in 1922 and moved to Traralgon with her family at the age of four. In 1936, she left home to study accounting in Melbourne. She worked at the Council for Adult Education for a number of years as the assistant director of classes and courses.
In 1950, she married Rick Webb and the couple relocated back to Gippsland, initially living in Yarragon and then Heyfield, in a house on her grandfather's property where her father had been born, and finally to a soldier-settlement dairy farm in Nambrok-Denison.
During the 1960s, Gwen – who always had an interest in art – began to attend evening painting classes at the Council for Adult Education, taught by Harold Farey from Sale Technical School.

While Gwen also joined the Sale Art Group around this time, she was not initially active with the Sale Regional Arts Centre (established in 1965) because of her distance from Sale, and her commitment to providing daily physiotherapy to her handicapped daughter Thea.
In 2015, Harold Farey remembered Gwen as "a real character. She was a strong-willed woman".

Her strong will would come to serve Gwen well in the years ahead.
Notably it was at her painting classes in the 1960s that Gwen met and became firm friends with fellow student and proprietor of the W.D. Leslie department store in Sale, John Leslie, who later became the first patron of the gallery.
In 1971, Gwen and Rick moved permanently into Sale and she joined the gallery's voluntary committee of management, putting her accounting training to good use as the treasurer.
As she once said, "I wasn't much of an artist, but I was a great administrator".
In 1975, changes made by the Ministry of Arts meant that only galleries with a paid full-time director would be eligible to receive government funding.

Gwen was appointed permanently to the role from January 1, 1976 (having been acting in the role since June 1975).
She had a gift for coercing others into helping her at the gallery, assembling a loyal army of volunteers to help with hanging exhibitions (including members of her family).
While not joining the voluntary committee herself until 1971, she was "always involved with the gallery", and she was fond of reminding people that when the subscriber program began in 1965 (today's 'Friends of the Gallery'), she was the first to join.

In her 15 years as director, Gwen formulated a collection focus on Gippsland and the natural environment, which remains in place today.

She rallied the entire community behind the gallery, built up an enviable annual visitation, created the largest membership of any public gallery in Victoria (more than 600 at one point), and implemented an increasingly ambitious exhibition program.
Marianne Alcock (Parasiuk), a volunteer with the gallery during that period, recalls: "… she was a catalyst for excellence, and it was her drive and vision that took the gallery forward. It was exciting".
It could be said that Gwen's longevity was in spite of her lifestyle, not because of it.

She has seemed for so long to have been untouchable by mortality, too strong, and too defiant.

Visitors to the gallery in the 1970s and 80s recall having to navigate through clouds of her cigarette smoke to locate the artworks, and yet she was always there, awaiting visitors, ready to greet them with a smile.
No challenge was too great for Gwen, and many of her greatest triumphs were born from adversity.
In May 1989, hours before the biggest opening night of the year, she and her voluntary staff were told to immediately close the gallery by the Department of Labour and Industry, because of concerns about asbestos in the ceiling.
Gwen successfully negotiated to hold the opening that night, but the following day the gallery was literally homeless. With remarkable tenacity she quickly found a short-term home in the Gippsland Centre before moving into the Spotlight Plaza for six months.
It was here that the gallery staged the first retrospective exhibition of Annemieke Mein's artwork to large crowds – many never having visited the first gallery on Macalister St.
After her retirement in December 1990, Gwen continued to be seen as a figurehead for the gallery and for the arts in Gippsland.
She embodied the essential characteristics of a good gallery director, being approachable, compassionate, well-connected and diplomatic.
It is not an exaggeration to say that Gwen inspired a generation of artists and art lovers through her passionate stewardship of the gallery, and Sale has much to thank her for.
The Gwen Webb Art Activity Centre on Market St, Sale, was named in her honour, and in 1993 she was awarded an Order of Australia for her services to the community.
As Pam Frew wrote fittingly, "It was Gwen Webb's vision and ability to draw out the very best in people, be they artists or otherwise, which is certain to endure beyond the four walls of the gallery".

Gwen kept herself busy with community activities with regular bridge nights, U3A and bushwalking with the Field Naturalists, where she maintained her close friendships.
She is remembered by the staff of the Gippsland Art Gallery and all who knew her as an exemplary leader within her field, and as a generous, big-hearted friend to all who knew her. She is survived by her children Evan and Marian, two grandchildren and six great-grandchildren.