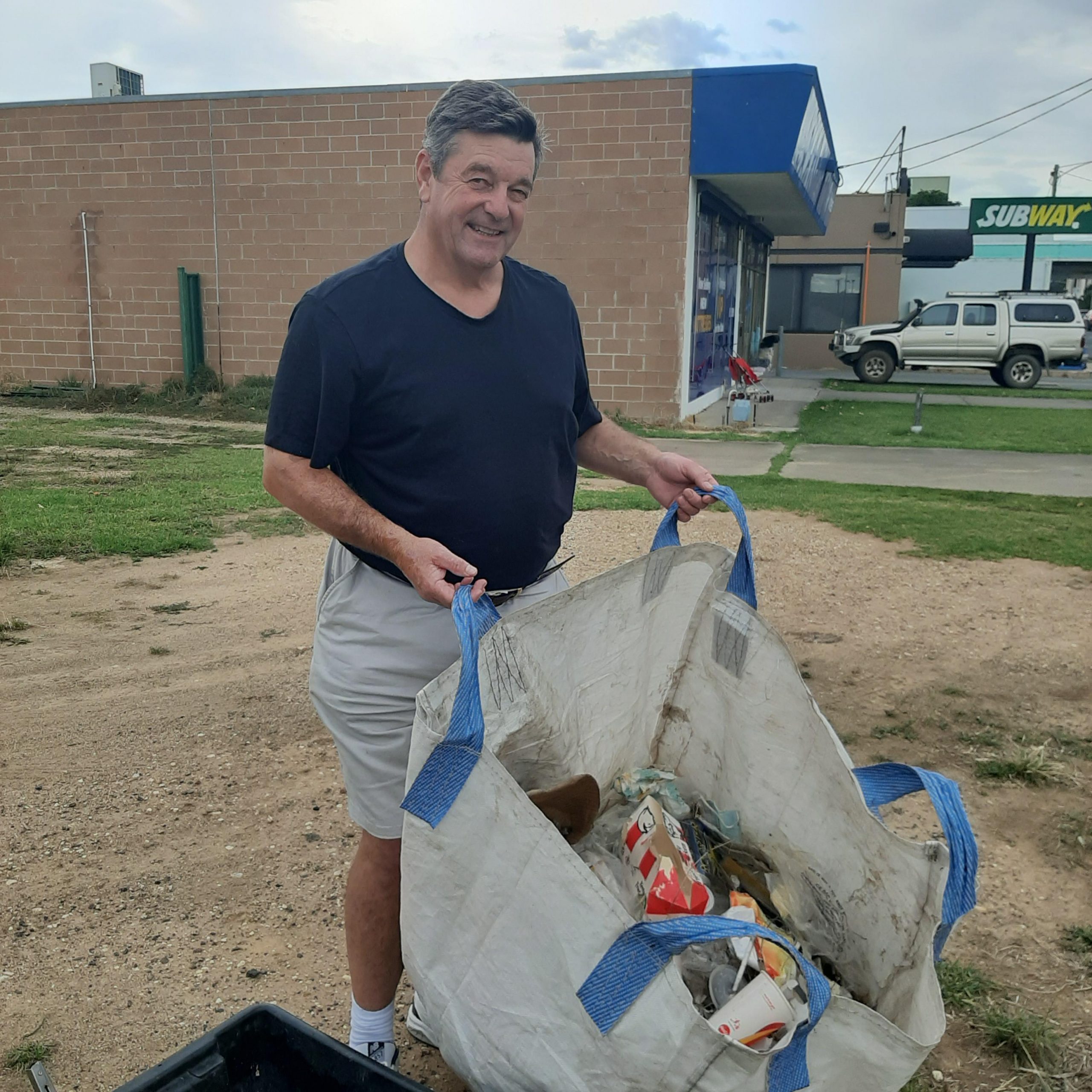 Liz Bell
CLEANING up litter is a kind of hobby for new Sale resident Peter Cursley, and he is keen to spread the joy.
With Clean Up Australia Day on the horizon, Mr Cursley is reminding local residents that any time of the year is a good time to work on having a litter-free environment.
The quietly-spoken but passionate community hero has been on a mission to remove some of the litter in the local streets and waterways, and is hopeful that he can gently encourage a few like-minded souls to do the same.
It was adage "be the change you want to see", that prompted Peter to begin picking up discarded litter, firstly from the beautiful waterways around Sale, and then in some areas in and around the township that had a build-up of rubbish.
In true community spirit, he does it just because he wants to improve his community and because he doesn't like to see rubbish clogging up rivers, creeks and lakes, or creating an eyesore.
"It's such a shame that there are people who throw rubbish and the litter ends up in the environment, but instead of people just expecting someone else to clean it up, I thought I could help," he said.
"We can all complain and expect authorities to take the lead, but in the end all that does is cost the ratepayer or the taxpayer, so let's all be part of the solution."
Mr Cursley is calling for individuals or groups of people to get involved in clean up challenges, such as the forthcoming Clean Up Australia Day campaign on Sunday, March 7, or to begin their own on any day, either as a solo participant, a family or a group of friends or residents.
He recently noticed a growing amount of litter scattered around a vacant allotment in the main highway through Sale, so went home and returned with gloves, a garbage bag and a container for recyclables, and cleaned it up.
"It took my wife and I around 20 minutes, so it wasn't a huge job, but if everyone did it, our environments would be so much cleaner, safer and nicer to look at," he said.
Mr Cursley said Wellington Shire Council was supportive of residents getting involved in community clean up, and allowed those who registered their event to dispose of the litter for free.
Individuals, schools, organisations or businesses that want to help reduce litter in their environment but don't want to start their own event can get involved in a range of litter reduction programs, including:
Clean Up Australia Day, held on March 7. People can join via cleanup.org.au/create-a-clean-up.
Keep Australia Beautiful Week, which runs from August 16 until 22. People can register via kab.org.au/keep-australia-beautiful-week.
The Adopt a Roadside program. Register via regionalroads.vic.gov.au.
The Adopt a Patch initiative. Register via kab.org.au/adoptapatch.