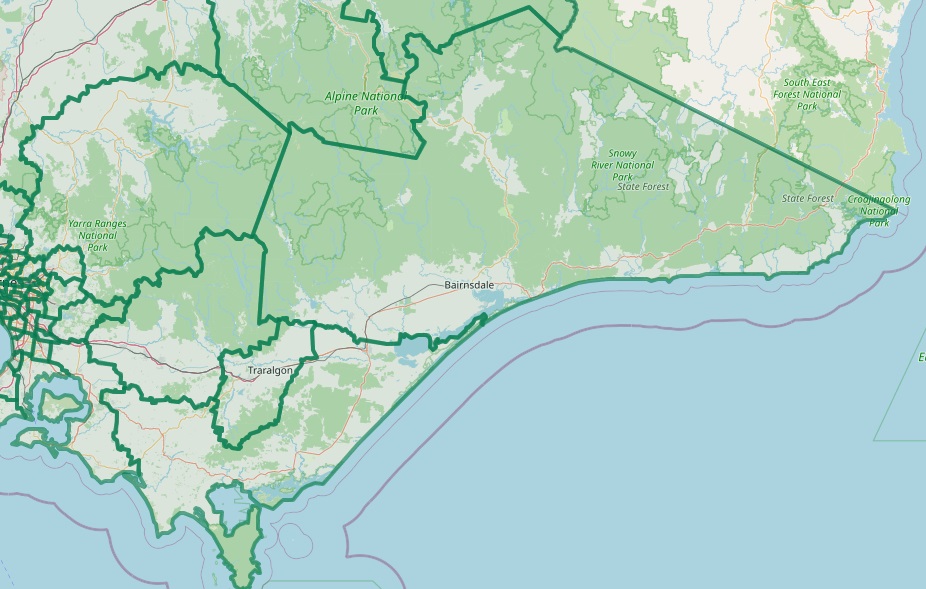 David Braithwaite
PUBLIC submissions are now being considered as part of the next phase of reviewing the boundaries of Victoria's 128 state parliament electorates.
The Electoral Boundaries Commission received 37 submissions shortly before the deadline on Monday.
Submissions referring to the Gippsland South and Gippsland East electorates generally recommend minimal or no changes.

Four submissions suggest moving Inverloch from Bass into Gippsland South, with one of them going further, also bringing in Wonthaggi.
This would address a surplus of voters in Bass and the lower than average number in Gippsland South.
This was recommended by the commission in its initial proposal during the 2013 redistribution process, but was reversed following concerns raised by Bass Coast residents about being split between two electorates.
Another suggestion from 2013 which has resurfaced in the submissions is moving Moe into the Morwell electorate, and renaming it 'Latrobe Valley'.
Submitter Michael Tandora suggested having the new Latrobe Valley district encompass all of the Latrobe City, except Boolarra (which would go to Gippsland South) and part of the municipality north of the Latrobe River, which could go to Narracan.
Under Mr Tandora's proposal, the current boundary between Gippsland South and Narracan would be the same, as would the current boundary between Latrobe City and Wellington Shire.
Mark Mulcair agreed with moving the area around Boolarra and Yinnar into Gippsland South, noting the challenge of bringing that electorate into the acceptable population range.
"Somewhat constrained by geography, the options for Gippsland South to make significant population gains are limited," Mr Mulcair said in his submission.
"Expanding westwards would bring the boundary very close to Traralgon, and would split communities off from their hubs in Traralgon and Morwell. I suggest the only realistic gain is from the rural areas in the south.
"As a starting point, I suggest the southern rural part of Morwell district (Boolarra, Yinnar and surrounds) could be placed in Gippsland South.
"This area has good links to Morwell, but I think it also fits quite well with areas to the south currently in Gippsland South.
"I also recommend transferring the town of Inverloch. In making this change, I acknowledge that Inverloch has strong links to Wonthaggi and that previous attempts to split the two towns have been met with strong objections.
"However, the reality is that Gippsland South is a slow-growing district that needs a solid injection of electors, and there is nowhere else for the seat to practically make gains."
One Nation, the only political party to make a submission so far, also suggested the Latrobe Valley electorate, including Moe, Morwell and Traralgon.
One Nation suggested places such as Churchill, Yinnar and Callignee be moved into Gippsland South, which would be renamed 'Strzelecki' in recognition of the ranges which form most of the electorate's northern boundary.
Gippsland East would add the section of Gippsland South north of the Princes Highway from Rosedale to Fulham, as well as areas around Cowwarr and Toongabbie from the Morwell electorate.
Some submissions are less likely to become reality, such as the suggestion from the Phillip Island-based Island Voice that Nar Nar Goon and Officer be transferred from Bass into Gippsland South, with Bass to be expanded along the coastline from the top of Western Port to Wilson's Promontory.
Geoff Ellis urged electorates to have names with connections to the Indigenous population.
"I note that the vast majority of state electorates are named after small towns that are named after explorers, colonialists and early settlers," he said.
"This consolidates and enshrines the dispossession of the inhabitants who were custodians of these lands and never ceded sovereignty.
"Only a few of the current electorates are named after towns that have First Nations connections in their names.
"Every Victorian electorate includes several towns or localities that are named after First Nations words for that particular area.

"Such names are an enduring connection between a society that once was, and a society that aches for reconciliation."
Public hearings into the submissions are scheduled to be held from March 29 to April 2.
A report on the proposed boundaries will be released June 30, triggering a second stage of submissions.