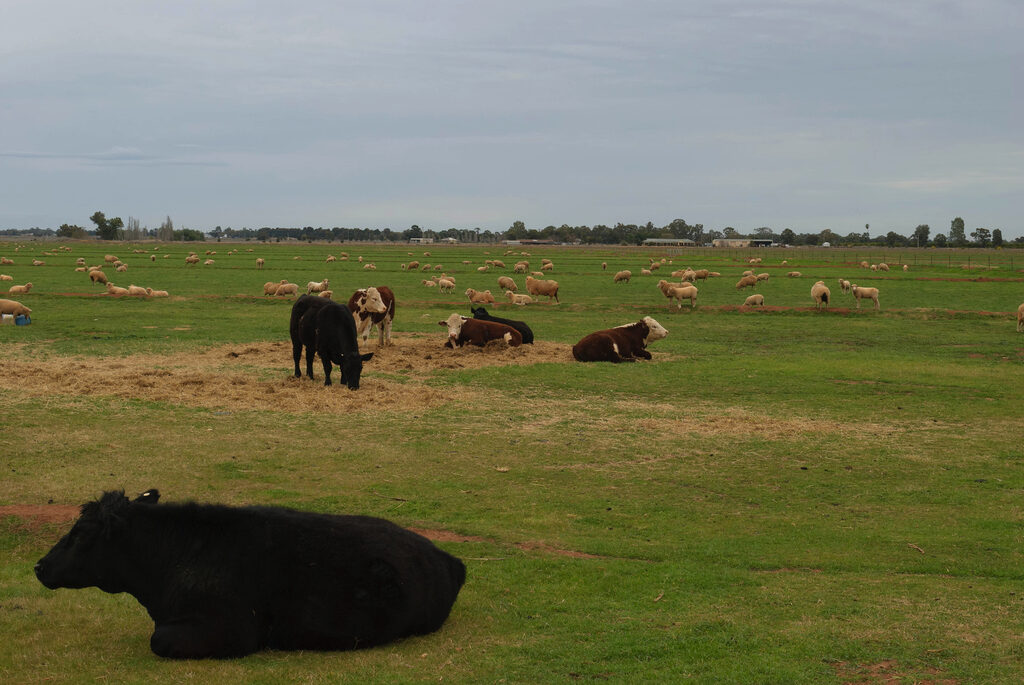 Liz Bell
A PLAN to produce sheep and beef cattle on land within a proposed east Gippsland mining site has been met with scepticism by mine opponents.
Kalbar Operations, which is facing a community backlash over a proposal to establish a mineral sands mine at Glenaladale between Stratford and Bairnsdale, recently announced it had set up the 'Fingerboards Pastoral Company' to utilise land in and adjacent to the proposed mining site for sheep and cattle production.
The commercial farming operation will focus on breeding and raising stock , with the potential for cropping and mixed farming in the future, and is expected to be in operation later this year.
Minefree Glenaladale spokesperson Debbie Carruthers said heavy grazing could mean that anything that might grow of significance wouldn't be there when ecological surveys were done before mining could commence.
And, she added, having a pastoral company was potentially another way for Kalbar Operations Pty Ltd to be eligible to access water.
"They need nearly three billion litres of water annually," Ms Carruthers said.
"The Latrobe Group aquifer is fully allocated and only two billion litres of the six billion litres of winter-fill licences is potentially available from Southern Rural Water, so there is a massive shortfall in water that the mine requires to be able to operate."
Another east Gippsland resident said the move was a "curious" change of heart for the company, which had long rejected community concerns that the land surrounding the mine site was an important food production region.
June Haviman said Kalbar had previously under-represented the value of agricultural and pastoral production in the Glenaladale region in its push to get approval for the mine — even in 2014 and 2015 when community concerns were first raised about the mine proposal.
"Now it reposits the idea that it [the food growing region] is of value," she said.
"How much research has it undertaken on feasibility to decide this?
"If any, it would find that local horticulture yields a greater return than their mine proposal or livestock."
Ms Haviman said publicly available research suggested the pastoral plan would fail, claiming the release of minerals from mining production and the mine's excessive water requirements would effectively destroy the company's own pastoral aspirations.
Minefree Glenaladale also fears the excavation of 16 square kilometres of "prime" agricultural land to a depth of 50 metres would expose nearby families and workers to radioactive and potentially "cancer-causing" substances.
Ms Carruthers has previously told the Gippsland Times that vegetable growers in the region feared the mine would create excessive dust that could pollute the land and the nearby Mitchell River.
In addition, the group fears the huge amounts of water required for mining production would create severe water shortages, particularly in times of drought.
The valuable Lindenow Valley vegetable industry is as close as 500 metres downwind of the mine site.
However, in a statement to the media, Kalbar Operations chief executive Jozsef Patarica said the company "want to look after the land" around the mine site and did not want to see it degenerate or become overtaken by feral animals or weeds.
He said the plan was consistent with other companies who had successfully established pastoral concerns as part of broader mining operations.
The Inquiry and Advisory Committee hearing of submissions for the proposed mine is currently underway, with Minefree Glenaladale presenting its case on Thursday and Monday.
In its submission to the IAC, East Gippsland Shire Council echoed community concern about potential contamination of the local environment.
Its submission stated the Kalbar Environmental Effects Statement appeared to be "designed to bamboozle", and that "toxic and radioactive contamination of one of the richest food bowls in the state would be very real".
All documents tabled for the inquiry can be found at engage.vic.gov.au/fingerboards-IAC