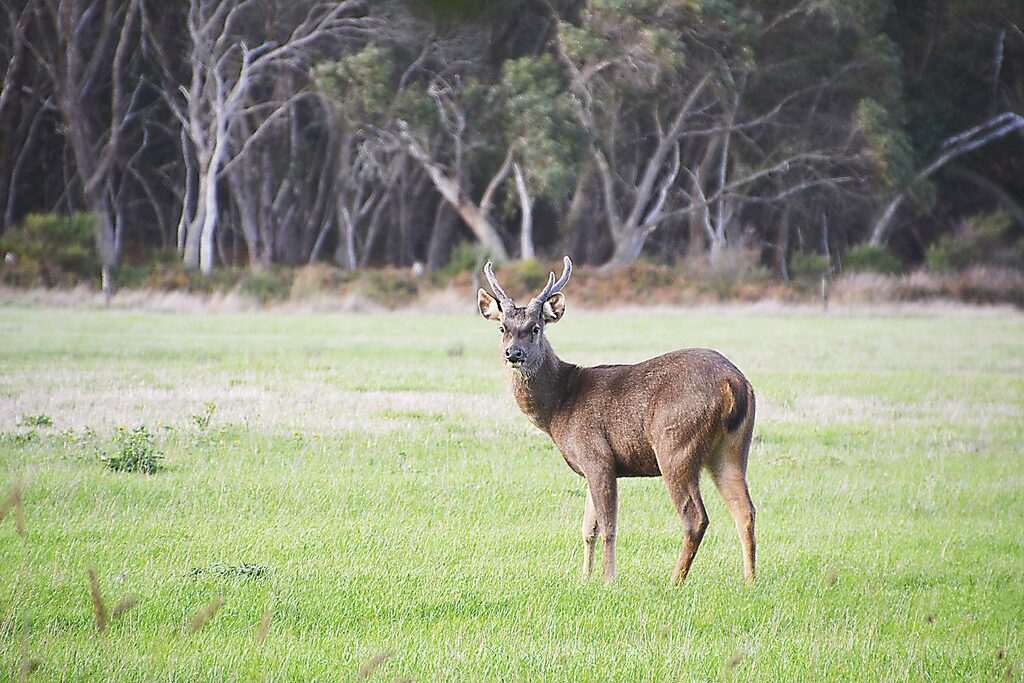 Sarah Luke
A REPORT on feral species handed down by the Australian Senate last week recommends declaring wild deer as an environmental pest across all of Australia.
The Senate environment and communications committee's report, published last month after a three-year review, investigated the increasing impacts of feral deer, pigs and goats across the country, putting forward 17 recommendations.
Most notably, these included changing laws nationally to declare wild deer as an environmental pest; maximising landholders' ability to control feral deer on their land and park managers in World Heritage Areas and national parks; and ensuring state, territory and federal governments commit to eliminating feral deer populations in areas of national environmental significance and national biodiversity hotspots and support commercial harvesting of feral deer.
The report found invasive species populations, particularly deer, appeared to be growing rapidly in both total numbers and overall range.
Feral deer and pig populations were named as a major threat to Australia's biodiversity, affecting a wide range of native plant and animal species, which had the capacity to completely alter the structure of local ecosystems and create irreversible damage.
The report noted the estimated annual costs to agricultural businesses from feral deer, pig and goat activities ran into hundreds of millions of dollars, taking into account the feral species' grazing and damaging crops, competing with livestock for food, reducing alternate land uses, and the time and money landowners spend repairing damage.
Feral populations also pose a significant challenge to containing and eradicating exotic diseases.
Currently, deer species have full or partial protection as game species in Victoria, New South Wales and Tasmania.
The committee found declaring deer as a pest species would enable more appropriate and coordinated control actions to be undertaken, and provide symbolic recognition of the increasing damage caused by deer to environmental and agricultural values across Australia.
The committee described recreational hunting as "a tool but not a solution" to reducing deer populations, pointing to "overwhelming evidence" recreational hunting was "not an effective standalone control measure".
The report found in order to have an effect on population, depending on species and conditions, between 34 and 52 per cent of the deer population, between 55 and 70 per cent of feral pigs and 35 per cent of feral goats needed to be killed each year.
The report recognised the competing interests of recreational hunters and landowners when it came to deer, contrasting hunters' objectives with landowners dealing with large numbers of pest animals who needed them eradicated quickly and humanely.
"… the objectives of many recreational hunters are to stalk an animal over a period of time, achieve a clean kill and to use the meat for private consumption," the report reads.
"Hunting in this way, recreational hunters do not shoot many animals and the committee heard they can have a focus on trophy specimens, rather than females, thereby having little impact on the reduction of numbers.
"Recreational hunters also, naturally, want there to continue to be a supply of deer for them to hunt in accessible populations.
"The committee notes the evidence showing economic benefits of recreational hunting must be weighed up against the costs to landholders, agriculture and the environment … submitters were very clear that historical notions of deer as a valued species do not reflect the reality of high numbers in many locations and the damage they cause."
The committee noted the change would "not limit the ability of recreational hunting of deer to continue".
Other recommendations included ensuring significant long-term funding for management programs, improving data collection and reporting, and updating existing humane control management to ensure best practice.
Invasive Species Council chief executive Andrew Cox said the report was a wake-up call to governments that hard-hoofed feral animals were driving an environmental and rural crisis across Australia.
"Most of the Senate report recommendations centre on feral deer, where six species presently occupy less than 10 per cent of Australia, but are projected to spread to almost the entire continent," he said.
"Despite historical notions of deer as a valued species, the overwhelming evidence of the inquiry shows deer in many areas are in plague proportions, causing major environmental damage and costing some landholders $100,000 or more a year.
"Deer will pose an increasing risk of livestock diseases, road accidents and occupation of urban areas."
The Centre For Invasive Species Solutions, which was singled out for needing more long-term funding in the report, welcomed the recommendations, with chief executive Andreas Glanznig saying more funding would ensure the centre achieved its goals into the future.
"We have known feral deer are an emerging national issue for many years now, and this was recently confirmed in the latest Australian Bureau of Agricultural and Resource Economics pest animal and weeds survey finding that feral deer were the most commonly reported pest animal that recently arrived on properties, more so than kangaroos, feral pigs and wild dogs," he said.