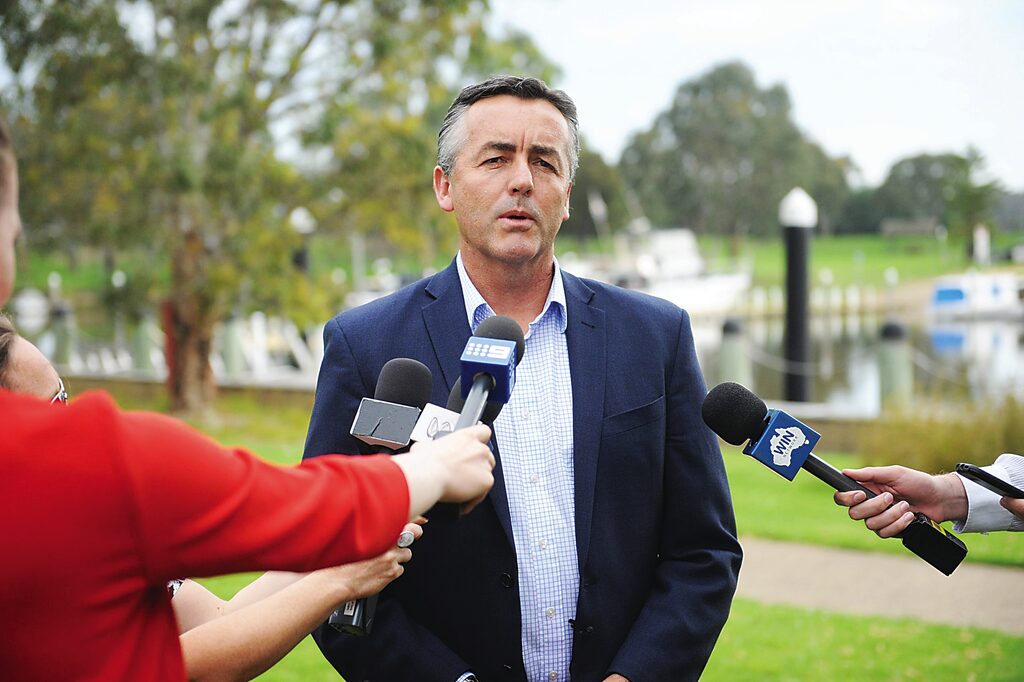 Gippsland MHR Darren Chester has confirmed he will take a hiatus from The Nationals party and its meetings, over growing frustration with the party's leadership.
Taking to his Facebook page on Sunday evening, Mr Chester said he would be taking "a break from organised meetings, events and activities in The Nationals Federal Parliamentary party room", and would re-assess his position when federal parliament resumed in October.
"To be clear, I continue to support the Coalition government but want some time away from the The Nationals Federal Parliamentary party room to reflect on a number of significant issues," he said.
"My decision follows months of frustration with the repeated failure of the leadership to even attempt to moderate some of the more disrespectful and offensive views expressed by a minority of colleagues.
"As I indicated at the time of the leadership spill, I remain committed to the Victorian National Party."
The former infrastructure and transport, then veterans' affairs minister, was dumped from Cabinet in July, after backing former leader Michael McCormack during a leadership spill.
After resigning from the party's federal leadership in 2018 in the wake of his extra-marital affair with a staffer was exposed and a sexual harassment complaint was filed, which he denies, controversial politician Barnaby Joyce was victorious in his bid for the top job, and was quick to replace Mr Chester with his own supporters for the second time in three years.
Now a backbencher, Mr Chester is one of the more progressive Nationals MPs, becoming the party's first to back same-sex marriage, and has recently publicly cautioned his party for climate change denial.
In recent months, Mr Chester has made his disapproval of some of his colleagues' questionable comments known.
He urged Mr Joyce to apologise after he said regional residents "couldn't really give a shit" about Melbourne's pandemic challenges during an interview.
Mr Chester also slammed his Queenslander colleague Matt Canavan for his tweet which asked if the Taliban would sign up for net zero targets, a comment which Mr Chester labelled as "offensive, disrespectful and totally lacking in any compassion for the 41 brave Australians who lost their lives, the families who grieve for them, the 39,000 Australians who served in this conflict, and the people of Afghanistan".
More recently, Mr Chester has been critical of his colleague George Christensen, who has
been condemned in federal parliament for spreading misinformation about COVID-19,
speaking at anti-lockdown rally in his own electorate of Mackay, and arguing Victoria Police
officers should be arrested for using "excessive force" against protesters in Melbourne.
"He conveniently ignores the fact that police were punched, kicked and stomped on by
protesters," Mr Chester remarked.
Mr Joyce said as leader of the party, he would not silence Mr Christensen, and that he was
entitled to publicly express his views.
Mr Chester said he would use his break to travel throughout Gippsland and focus on local and federal issues of concern, such as long delays in bushfire recovery and failure to
deliver already-funded infrastructure projects.
He has confirmed he will re-contest the seat of Gippsland in the next election.
"I have been preselected as The Nationals candidate for the seat of Gippsland and intend
to contest, and hopefully win the next election, which will be held at some point in the next
12 months," he said.
"I love Gippsland, and I'm not going anywhere."
Mr Chester holds the safe Nationals seat with a two-candidate preferred margin of 16.67 per cent.