Sarah Luke
Only two weeks out from summer, wild weather has again lashed Wellington Shire for the third time this year.
In a true Victorian spring, residents experienced heavy downpours, hail, damaging wind gusts, freezing blasts of air, flooding and occasional sunshine, across the weekend — sometimes within the space of an hour.
From Friday to Monday, the Bureau of Meteorology reported East Sale recorded 60.4mm of rainfall, with wind gusts peaking at 70kmh about 7pm on Sunday night — not quite the ferocity of the windstorm in October, but enough to prompt a severe weather warning for damaging winds from the bureau.
Other parts of Wellington Shire were also quite wet, with Briagolong recording 75.6mm — more than its monthly average — on Friday alone.
Meerlieu recorded 79.8mm across the weekend and Stratford 78.4mm, while in the shire's south, Balook recorded 110.4mm, Giffard 40.4mm and Yarram 41.4mm.
Minor flood warnings are still in place for the Gippsland Lakes, and the Avon, Thomson, Macalister and Latrobe rivers as of this afternoon.
A gale wind warning is in place for the Gippsland Lakes and central Gippsland coast.
Friday's unusual wind direction — southeasterly gusts — combined with the waterlogged
ground to bring down trees and cause minor property damage locally.
AusNet assigned additional staff in the control and call centres, as well as putting additional
field, vegetation and aerial crews on standby ready to respond to power outages, but the widespread blackout seen locally across Melbourne Cup weekend was fortunately not repeated.
Stratford SES Unit reported flash flooding, with the storm catching some people off guard in the area at the weekend.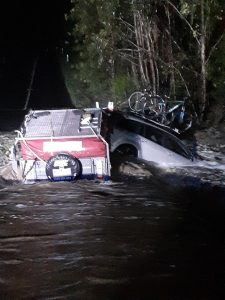 One vehicle was damaged when it was hit by a fallen tree on Friday night, while the occupants of another car were able to get out before their car was washed into a creek.
The Avon River peaked above major flood levels at Stratford on Saturday afternoon, reaching above six metres.
True to its form as one of the fastest rising and falling rivers in the Southern Hemisphere,
it was below minor levels again on Monday afternoon.
Flooding from the Avon blocked off Weirs Crossing and the Bengworden Rd, as well as the low level bridge to Valencia Creek.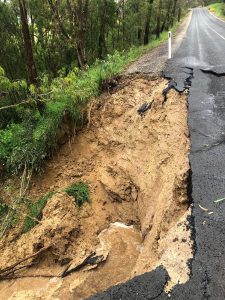 A land slip between Valencia Creek and Briagolong caused part of the road to crumble, blocking access between the two towns.
In anticipation of more rainfall, Southern Rural Water began spilling the already-swollen
Glenmaggie Weir last week with some small releases, eventually increasing to 17,000 megalitres per day — above minor flood levels.
As inflows began to ease late on Saturday, the water authority was able to drop back to 10,000 megalitres, and the lake was back to 97.4 per capacity by this morning.
Tinamba was rather damp; flooding blocked the Tinamba-Glenmaggie Rd and the Traralgon-Maffra Rd, while the Weir Rd in Heyfield was also flooded out.
Minor flooding developed overnight in Rosedale overnight Sunday into Monday as the Latrobe broke its banks, and was expected to develop downstream.
Flooding Creek had risen by more than one metre at the Port of Sale since Thursday, and reached minor flood levels this afternoon.
Yesterday morning, the apparent temperature (which takes wind chill and humidity into consideration) for East Sale was 0.7 degrees — hardly the November residents are used to, with east Sale's average monthly temperature around 21.4 degrees.
The bureau expects conditions to settle from tomorrow onwards, as the significant low pressure system moves away to the east.
More rain is expected to hold off until at least Friday, when showers and the chance of a thunderstorm is predicted to settle in again for the weekend.
As river and creek levels could still rise across this week, authorities are reminding people never to drive into flood waters — it only takes 15 centimetres of flood water to float a car.
Current road conditions are available here, and people should stay up to date with the latest conditions via VicEmergency.