Celebrate Seaspray Facebook page
Zoe Curtis
Last Thursday was one for Seaspray's history books, with West Gippsland Catchment Management Authority taking rare action to divert the mouth of Merriman Creek away from the dunes to assist with their rehabilitation following recent storm and flood damage.
Normally, Mother Nature is left to sort the ebbs and flows of the creek, however anyone who has visited Seaspray in the past few months will have seen this particular bout of damage was significant — and showing no signs of abating.
The WGCMA deemed this action to have "low environmental risk" as there were good oxygen levels in the creek, good freshwater flow and the creek was already open to the ocean.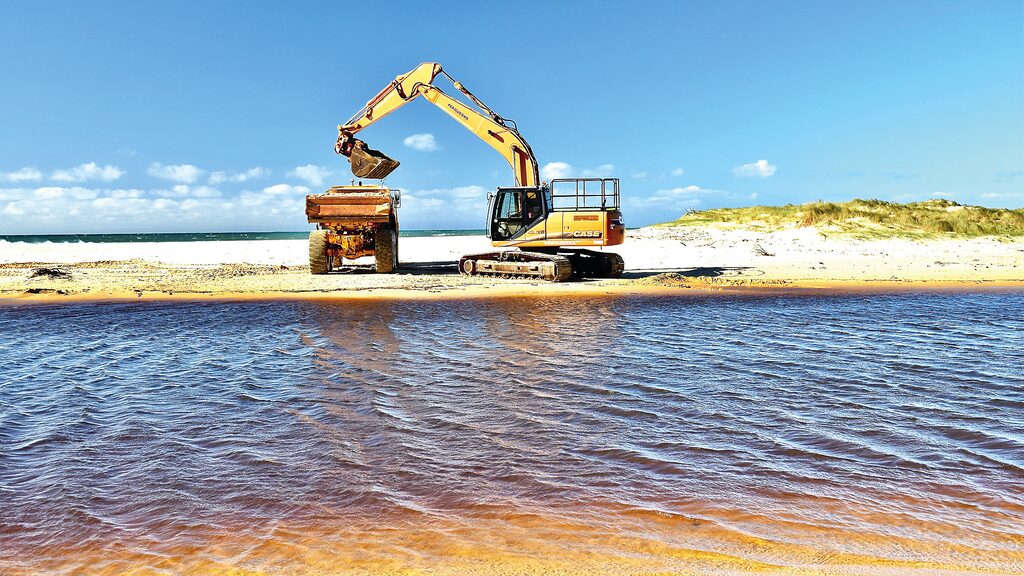 In a statement, it said artificial estuary openings could be harmful to the ecology of the creek's estuary.
"In a closed estuary the water can separate into two layers: an oxygenated fresh water layer on top and an oxygen-poor saline layer on the bottom.
"If the estuary is artificially opened during periods of low freshwater flow the oxygenated layer flows out, leaving behind low oxygen water, which can cause fish to suffocate and die.
"Artificial openings can also drain important surrounding wetlands that need water to thrive and provide habitat for important plant and animal species.
"The WGCMA is responsible for approving artificial estuary openings and state policy requires the approval to be based on an assessment of environmental, economic, social and cultural risks, and the feasibility of an opening being safe and sustained."
The works ended up being well timed ahead of the weekend's deluge, and the works appear to have done their job.