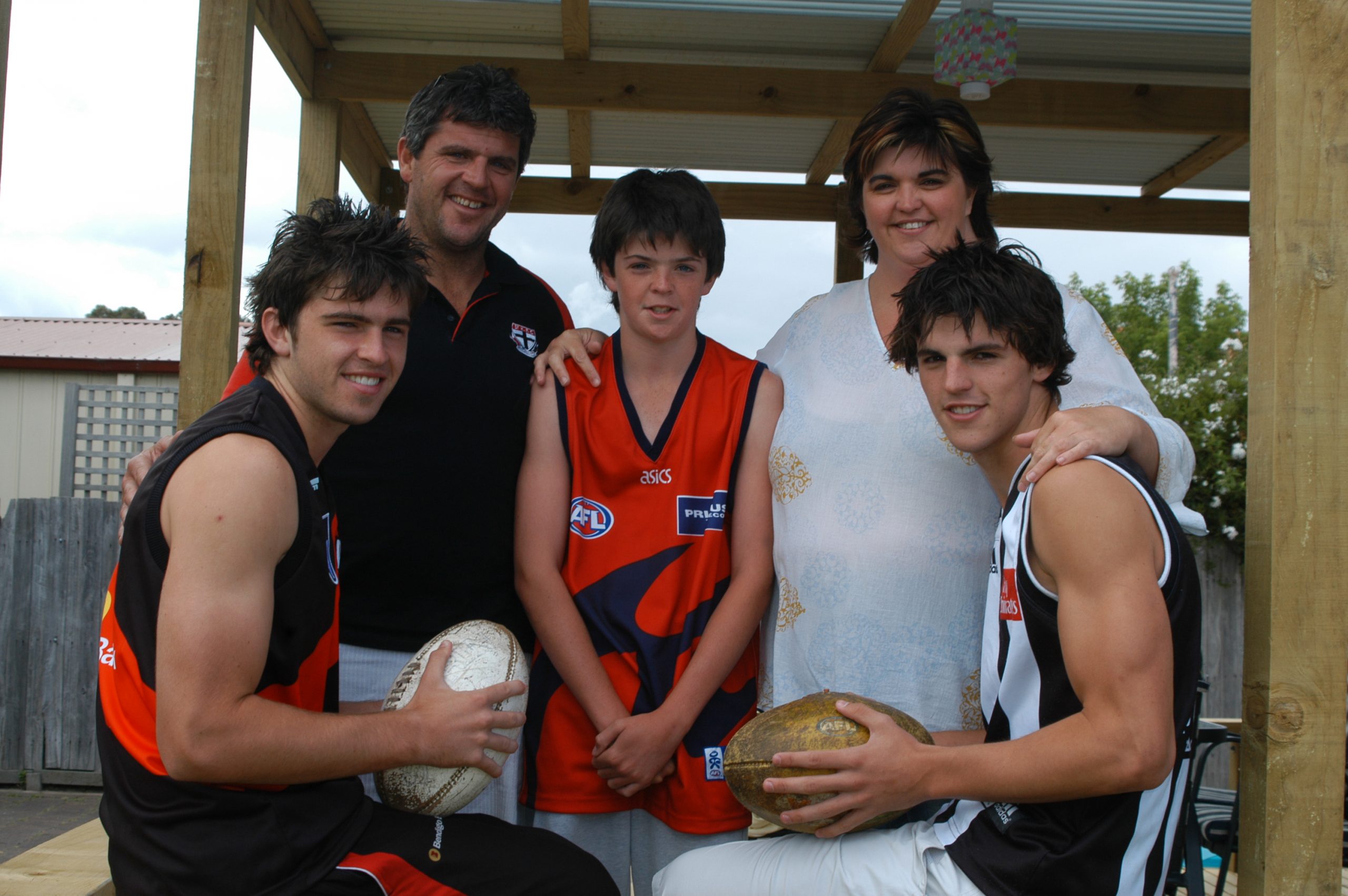 Liam Durkin
THE biggest football club in the country and Sale are set to be explicitly linked, thanks to the efforts of Collingwood superstar Scott Pendlebury, who will break the Magpies' games record when he runs out for game number 314 next week.
Pendlebury will break the record held by fellow Norm Smith medalist Tony Shaw in the final home-and-away round against Port Adelaide at the Gabba on Monday night.
Growing up in Sale with parents Bruce and Lisa, and brothers Kristopher and Ryan, sport was virtually a way of life in the Pendlebury household.
The family lived within walking distance of Sale Oval and even had keys to the local basketball stadium.

"That was our playground pretty much every day after school," Kristopher said.
"There was always a sporting activity or training after school and then obviously the weekends, whether it be basketball down in Melbourne or Sale, or footy, wherever it may be, there wasn't too many free weekends that's for sure.
"If I slam dunked a basketball when I was 16, Scott would try and do it when he was 15, or Ryan would try and beat that. If I made this rep team or Scott made this rep team, there was always bragging rights on the line and that always sort of pushed one another to achieve more than the other did or the previous one did.
"Mum and dad did an amazing job driving us around everywhere we needed to go, so they gave us every opportunity that we could have hoped for."
After initially deciding to focus on basketball, Lisa said Scott had ambitions of making it to the Australian Institute of Sport.
"Watching the NBA and Rhys Carter from Sale, he looked up to Rhys. He was just striving to get there, working hard, training, just never stopped," Lisa said.
However, in a twist of fate, after receiving a basketball scholarship to the AIS at the end of 2004, Pendlebury decided to head down the football path, which had Gippsland Power and legendary talent manager Peter Francis rubbing his hands with glee.
"He was on our radar for a long time through the under 15s and 16s but he didn't play as an under 15 or 16, he came in his 17th year," Francis explained.
"He went away to the Australian Institute of Sport with our blessing and he came back right at Christmas and gave me a call and said 'look Pete, remember that discussion we had? I want to follow football'."
Playing on a wing at Gippsland Power in 2005, Pendlebury would go on to play in the club's 2005 premiership.
That was also the year Pendlebury played his one and only senior game for Sale Football-Netball Club, in round 18 against Warragul.
On draft night his name was read out to go to Collingwood, which as Kristopher explained, was a rather poignant moment.

"It was quite an emotional day in our family because our grandma who was mad-Collingwood, the only one in the family, had passed away a few months previous to that, and by chance he went to her club so it was a pretty emotional day for everyone.
"We were just huddled around the computer, I think it was back in the day where if the phone rang the internet dropped out, so I think we missed the pop-up on the screen of Scott getting drafted to Collingwood.

"We were rapt he went to Collingwood, he could stay in Melbourne and it was onwards and upwards from there."
Upon arriving at the famous club, Pendlebury quickly took to life as a professional footballer under the coaching of Mick Malthouse, who told Bruce and Lisa "we're going to take your boy and turn him into a man".

Pendlebury's arrival at Collingwood coincided with a steady rise for the senior team, who found itself premiership favourite by 2010.
Bruce and Lisa experienced contrasting extremes watching the draw of the first week, but were able to sit back and enjoy their son have 29 disposals in the replay.
"It was pretty nerve-racking," Bruce said of the drawn grand final.
"Scott wasn't well that day, he had gastro and didn't tell anyone, didn't tell Malthouse because he probably would have said 'no, you're not playing'.
"I suppose in one way they were lucky to make a draw but the following week they pumped them and he got the Norm Smith."
As the celebrations kicked on, Lisa said the city of Melbourne that night was a sight to behold.
"We were walking up Swan St and all you could hear was 'Collingwood', it was amazing," she said.
In the years since Pendlebury has virtually done it all and remarkably never seems to play a poor game, something Kristopher believed came from leaving no stone unturned.
"For him it's a lifestyle – diet, sleep, hydration, walking in the water at morning and night, vision, watching the footy, who they're playing next week, it's literally a lifestyle for him," he said.
"He's got a saying that 'hard work is undefeated', and it's so true because he works harder than anyone you'll ever meet in your life.
"He doesn't call it a sacrifice he calls it an investment.

"We've got a little joke between our friends, we call him 'Vino', obviously we were big NBA fans and Kobe Bryant use to call himself that, like a fine wine, he just gets better with age."
During his time at Collingwood his closest mates have been Dane Swan and Luke Ball, along with Tyson Goldsack and current teammate Ben Reid.
Away from football, his mother said Scott enjoyed spending time with family and tucking into some home cooking.

"His favourite thing is eating, as soon as we have lunch it's 'what am I going to have for tea?' or 'where are we going to go for tea?'," Lisa said.
"He stays in close contact with his pals from Sale, he looks after them, for the grand final he gets them tickets."
Kristopher echoed his mother's thoughts, saying his younger brother made time for those he was close to.
"He's very much the same kid that I grew up with, he's pretty reserved with his comments, he takes a lot of information in, he doesn't speak emotionally, he'll take in all the facts and give a pretty measured answer," he said.
"He hasn't really changed much to me, we get along really well, he's a tremendous uncle to my kids, he's a great role model, really generous with everything he does with his friends and family.
"He's very appreciative of the lessons growing up in a country town like Sale taught him. You have to work hard for everything down there, the ability to play sport all day long down there was amazing so I think that was a good grounding."
Perhaps one of the greatest shows of his character came when he helped out an old Sale friend on short notice around a year ago.
Having reached the Australia Club Championships, the Sale Sonics under 14 girls basketball team were in need of a team tracksuit.
As coach Jo Crawford-Wynd explained, Pendlebury came to the rescue.

"The expense for us coming from the country travelling to Melbourne every Friday, paying all the accommodation, it was building up and we also couldn't get custom made tracksuits for such a small order," she said.
"So I thought I'll just give him a call and see if he can maybe put me on to somebody, I text Scott and within five minutes he rang me back and said 'ring this number tomorrow, Puma will do it for you'.
"He doesn't forget where he comes from, he doesn't forget the people that helped him along the way."
As immensely proud parents, Bruce and Lisa will watch their famous son create history in a matter of days.
With so many Collingwood supporters wearing the number 10 on their back at stadiums around the country, Bruce said it was quite surreal.
"You think 'golly they're supporting my boy'. The little kids idolise Scott, friends send videos 'go Pendles', 'go Pies', it makes you feel really lovely," he said.
With a few years left in him yet, Lisa said there was still one thing on the bucket list.
"I would just love for him to be a premiership captain, that's my wish for him."