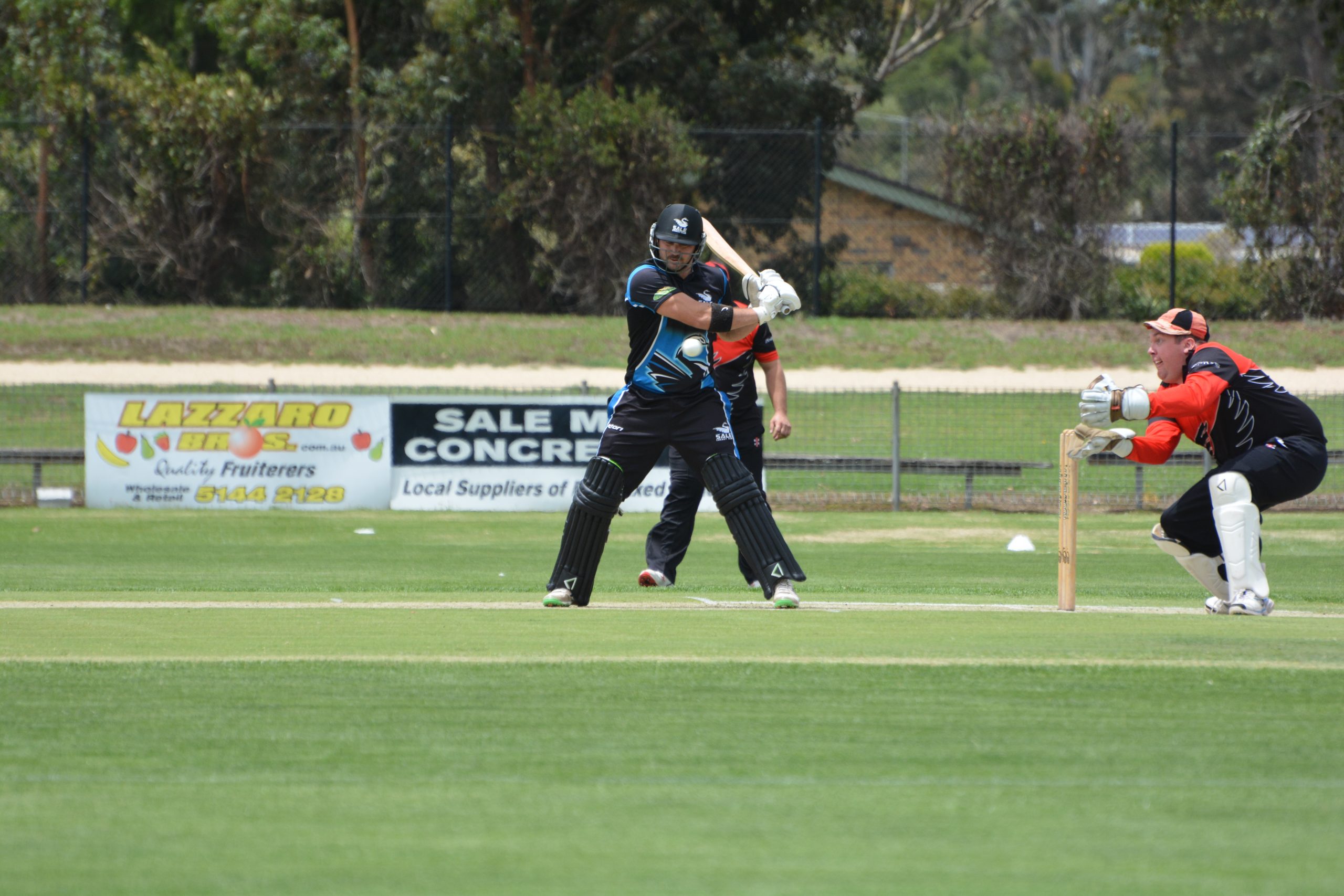 Liam Durkin
CRICKET club volunteers are facing a mountainous workload in the lead up to the 2020-21 season, after Cricket Victoria released its return to play guidelines.
Although the guidelines present challenges for clubs, they should also allow for a workable transition back to playing cricket in four weeks time.
All going well, the Sale-Maffra Cricket Association season will begin Saturday, October 17.
While the way in which cricket is played will no doubt be different and challenging at times this season, those involved can at least be grateful the game will actually be played in some capacity.
Ultimately, the message to clubs from Cricket Victoria is "cricket this season is a privilege, not a right. Get in. Train/play. Get out."
Given it's unlikely most SMCA players have actually read the 24-page return to play document, here are some important points to keep in mind.
ALL clubs must have at least one accredited COVID officer. The COVID officer will oversee protocols during the season and be charged with ensuring people comply with set regulations.
To become a COVID officer, one must undergo an online course, where they will be given a number of certificates upon completion. The course is run through the Department of Health and takes approximately 90 minutes to complete.
To access the course, visit www.health.gov.au/resources/apps-and-tools/covid-19-infection-control-training
MASKS must be worn by everyone aged 12 years and older, unless they are actively playing. That means players waiting to bat must have a mask on, as well as players in lower grades who might be standing at square leg or central to umpire.
Umpires must wear a mask at all times, as well as scorers and nonplaying coaches.
ANYONE who attends a club for training or a match must sign in and out.
Clubs have been encouraged to set up a QR code to be posted outside their club rooms to allow contact tracing to be sent straight to the Department of Health and Human Services. A QR code works by hovering a mobile phone camera over the code, where users are then asked to enter their details, which is automatically sent to DHHS.
Manual registers can also be kept at clubs.
TOILETS will be opened and cleaned regularly, and while change rooms can be opened, although this has been discouraged.
Canteens, kiosks or at-venue dining facilities may be opened in line with 'industry restart hospitality guidelines', including the four and two square metre rule.
SPECTATORS are allowed at junior matches but not senior matches. A junior match is classified as an under 18 competition.
Spectators must maintain their 1.5m social distance and also check in and out on arrival.
For senior games, only players, coaches, umpires and scorers, COVID officers and those operating the canteen are permitted. By the letter of the law, spectators cannot watch a senior game while sitting in their car.
THE afternoon tea is sure to evoke the most passion among local cricketers, and will take on an entirely new look in 2020-21.
No communal food or drink will be permitted, meaning players will either have to bring their own, or purchase food during the break.

Local bakeries could see an influx of players dressed in cricket whites around 3pm each Saturday, while clubs located outside towns may look at running a canteen or organising catering from a takeaway outlet.
AT the coin toss, captains are not to share physical team sheets, and whoever supplies the coin shall toss and pick it up. Ideally, teams will be entered into MyCricket prior to the toss, however, should there be late withdrawals, a team sheet can be filled out in the scorebook with a photo taken.
Those scoring must maintain 1.5m social distancing at all times, and wipe tablets or pens before use and each time a new scorer is required.

The fielding team must not huddle prior to getting into position, and once the game starts, the bowler is to place either their hat, vest, jumper or sunglasses at the top of their mark, on the boundary, or behind the wicket keeper. If the ball strikes any of those objects, the umpire shall signal 'dead ball', as opposed to the ball striking a helmet behind the wicket-keeper, which will remain a five-run penalty.

Players, umpires, scorers and coaches must sanitise their hands every 10 overs, and the same rule applies to the ball, which must also be wiped and cannot have any sweat or saliva applied.
The bowling team captain must wipe the ball in sight of the umpire or junior coaches at an underage game. If the captain is the wicket-keeper, a designated person must complete the task.
The ball must only be touched by the players, and if it is touched by a day-dreaming spectator picking it up from the boundary at a junior game, it must be cleaned immediately.
At the fall of a wicket, the ball must be placed next to the stumps at the bowler's end ready for the next delivery and also cleaned.

If the umpire is asked to inspect the ball they must immediately sanitise their hands before and after.
Players must not high five, hug or come closer than 1.5m when celebrating a wicket, and must not spit or block one nostril to clear the other at any time.
Clubs may look to keep the ball in a zip-lock bag during breaks.
Where things may get technical is in terms of field placings, especially if a spinner is operating and a short leg is told to move closer to the wicket keeper.
PLAYERS must come dressed ready to train, and can only train in groups of 10.
Groups of 10 must be spread out, with one group possibly in the nets, one at the closest end of the oval and another at the far end. The groups can rotate locations but must not mix at any time.
For clubs which have more than two nets, groups must be distanced at least one-net apart. The 'closed net' can still be used for one-on-one work such as thrown downs or with a bowling machine.
Junior teams which usually train before the seniors will have to either start 15 minutes earlier to allow for changeover, or integrate with the seniors and maintain the 10-per-group rule.
All SMCA first grade clubs shouldn't have a problem spacing groups out, as six of the eight have more than one oval at their complex, while Sale and Stratford have two of the largest ovals in the competition, as well as secondary grounds within close proximity.
Indoor training is not allowed.
LOCALISED outbreaks may require a club to restrict activity. The detection of a positive COVID-19 case in a club will result in a standard public health response, which could include quarantining a whole team or large group, and close contacts, for the required period.
Facilities may be closed on the instruction of the local public health authority or Chief Health Officer.
Where there is a positive case, the player or official must notify their club immediately. The club must then notify the public health authority and their association, who will notify Cricket Victoria.
If restrictions return and no play is possible before January 21, the season will more than likely be cancelled.
IF the season is to be a full one-day fixture, Collegians' premiership credentials could be vastly improved.
As the one-day premier from last season, College will fancy its chances with the white ball, as will main premier Sale, who only dropped one limited overs home-and-away game last season.
Another team which could benefit from all one-dayers is Boisdale-Briagolong, which has added Jonny Lash and recruited Dylan Bolton back to the club.
Lash has the underrated skill of cleaning up the tail quickly by blasting people out, while Bolton can dart through a few overs with his off spin.
Bolton should also be a good foil for Toby Leeds with the bat, as the pair can score quickly and change gears as the game requires.
Given white balls generally swing further but not for as long as red ones, the competition's genuine curve bowlers such as Rosedale-Kilmany pair Dylan Rowley and Hayden Glover could be licking their lips at the thought of getting the white ball in their hands for a deadly four or five-over spell if conditions suit.
With purely one-day fixture likely, there could also be scope to entice clubs such as Heyfield and Wurruk to try their hand back in the top flight, and to take the league up to a healthy 10-team competition.