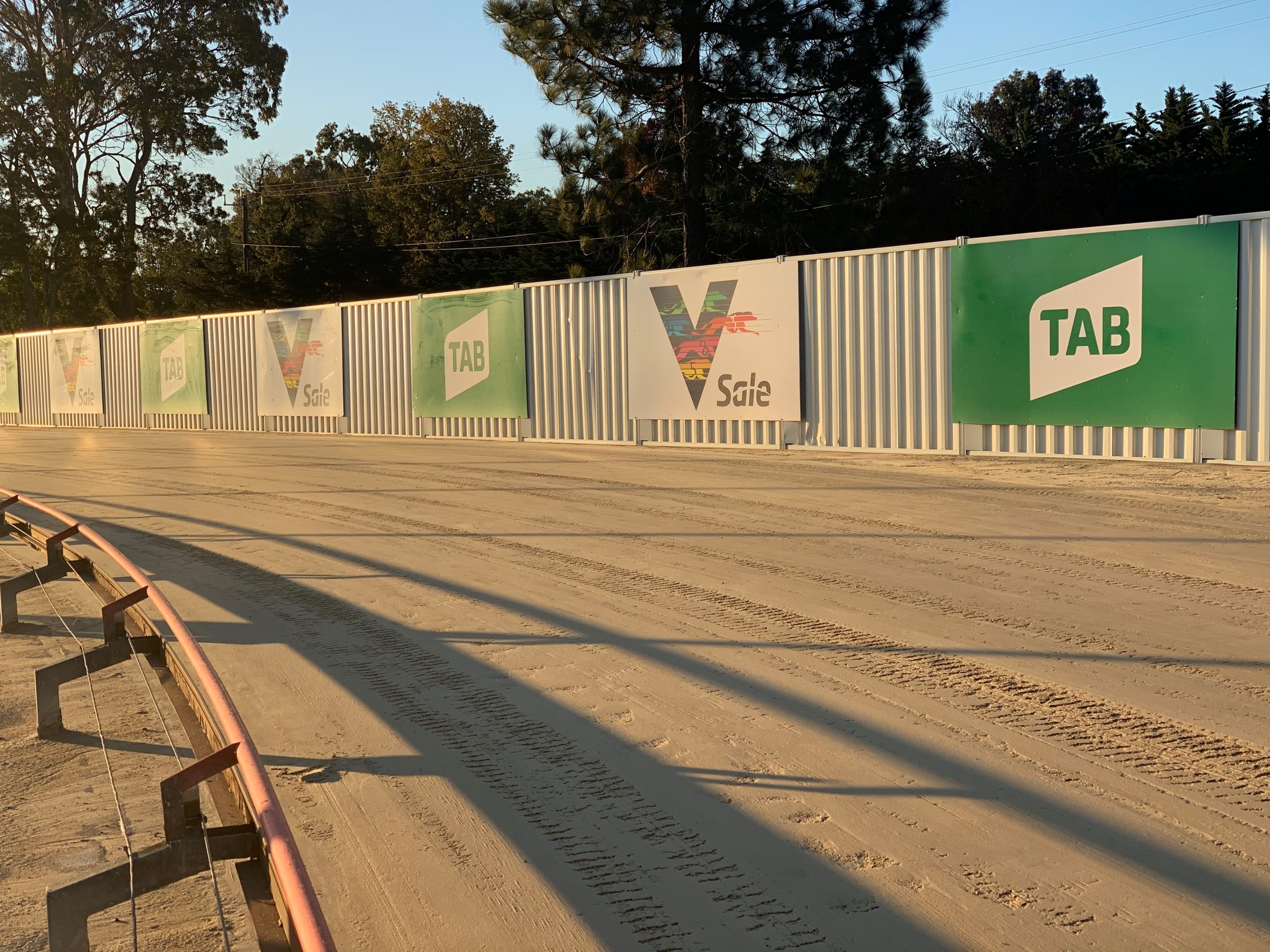 David Braithwaite
SKITTLE won two races in three days at Sale for Kilmany greyhound trainer Justin Booker.
On Friday night, Skittle won race 11, a 440 metre grade five, by a length and a half in 25.25 seconds.
Finishing well for second place was Diamond Cartel, trained by Lindsay Fulford at Maffra, while Aston Kenji came third for Nambrok trainer Gary McMillan.
Skittle backed up that success on Sunday, claiming race five, a 520m grade five, in 29.88s.
The leading three dogs went wide entering the straight, but Skittle maintained his line.
The chances of favourite Madalia Mick, trained by Robert Cook at Munro, were hindered on the first turn, where he was one of four dogs in a collision, but made up ground to finish second.
Sunday's final of the 440m series for dogs with three to six wins, was taken out by William Rose (24.88s), trained by Sharon-Lee Chignell at Rosedale.
William Rose and Eilish, trained by Des Douch at Maffra, battled for the win, with the former shooting away in the straight to claim a third win from four starts by almost three lengths. Slick Paws finished third for Susan Northway at Heyfield.
The race one 440m maiden was won by Ha Ha Magoo, trained by Douch, 24.83s, five lengths ahead of Jet Lee Rose, trained by Jeff Chignell at Rosedale.
In the first heat of the 440m mixed grade six and seven series, Whistling Bullett (25.12s) won for Ben Joske at Jeeralang Junction. In her four runs at Sale, Whistling Bullett has not been out of the placings.
In second place was Dr Madison, trained by Bill McMahon at Darriman, with Akina Archer, trained at Denison by Samantha McKay, third.
McMahon's Claydon (24.8s) impressed in winning the second heat by almost five and a half seconds.

The third heat was won by Niccali, trained by Melanie Lithgow at Devon Meadows, in 25.29s ahead of Carrie, trained by Jennifer Gill at Darriman, and Timmy, a winner on Friday night trained at Darriman by Kimberley McMahon. There was a three-way battle in the straight, before Niccali broke away to win by a length and a half.

The final will be this Sunday at Sale.

Airly Cleaner won race six, the 520 mixed grade four and five in 29.37s for Sale trainer Kym Russell. Favourite Aston Silk led into the straight, but Airly Cleaner finished well to win by two lengths.

Omega Cimarron, trained by Barry Harper at Seaspray, justified his favouritism in race 10, a 440m grade five, winning by two lengths in 24.95s.
It was the dog's fourth win in 11 starts.
In third place was Pine Gem, trained by Lesley Russell at Sale.
Race eight, the 440m mixed grade four and five, was won by Zambora Lou (24.93s), trained by Jason Thompson at Pearcedale, with $49.60 outsider Soda King, trained by Susan Northway at Heyfield, storming home to finish second.
Harlequin Rose, trained by Brendon Jones at Pyalong in central Victoria, won race nine, the 520m mixed grade six and seven, in 29.69s. After finishing third at Warragul last Tuesday night, Portelli Punk recorded the same placing in this race for Cobains trainer Ray Floyd.
THE feature of Friday's program was race eight, held of the Sale Cup distance of 650m.

The $3300 winner's cheque went to I'm A Krakouer, trained by Graeme Jose at Catani, who held off a charging pack to claim victory by a length in 37.96s. I'm A Krakouer has been in the places his past four runs, including two wins.
The race one 440m maiden was won by Curnow's Blues (25.27s) by half a length on debut for Yvonne Andrews at Kilmany, having led from the back straight. Showtime Boomer, trained by Matt Clark at Briagolong, was slow to start, but finished strongly to come second.
In race three, a 440m event restricted to dogs with one or two wins, Timmy (25.29s), trained by Kim McMahon, won by a nose from a fast-finishing Vice Grip, trained Gerard O'Keeffe at Neerim Junction.
Race four, another 440m race restricted to dogs with two or three wins, was taken out by Victory Chase, trained by Adrian Smit at Longford. Victory Chase led out of the box before claiming a third win from eight starts in 24.82s, four and a half lengths ahead of the in-form Ha Ha MacGyver, trained by Douch.
Following a win at Sale seven days earlier, Dr Headley, trained by Bill McMahon, won the 440m grade five in 25.02s, overcoming What's Up Skip, trained by Floyd.
Race six, the 520m grade five damsels dash, was won by $25.10 chance Rall's Girl, trained by Dennis Langley at Tooradin, in 29.72s. After colliding on the first turn, Whodat Dare finished third for Davide Fasoli at Heyfield.
Stirling Lights (24.71s), trained by Kate Gorman at Tanjil South, backed up a win at Healesville five days earlier by claiming victory in race seven, the 440m free for all. In second place was Sweet Demi, trained by Bill McMahon, with Usain Spolly third for Jessica Spoljaric at Kilmany.
Rostered Off, trained by O'Keeffe, won race two, the 440m grade seven, in 25.16s. Disoriented, trained by Lyn Smith at Nambrok, led into the home straight, but was passed late to finish third. Race five, over 520m and restricted to dogs with one to three wins, was won by All Class Fairy (29.86s) for Traralgon trainer Terri-Maree
Morris. Clan McMillan, trained by Gary McMillan at Nambrok, finished third.
Three dogs broke away following a collision involving the rest of the field, which led to Madalia Daisy, trained by Northway, to fall out of the race.

Burst The Seam (29.36s) won race nine, the 520m mixed grade four and five, for Glen Burns at Lang Lang.
Race 12, a 440m grade five, was won by Block Star (25.27s), trained by Garry Barnsley at Morwell, half a length ahead of Dr Luna, trained by Judith McMahon at Darriman.