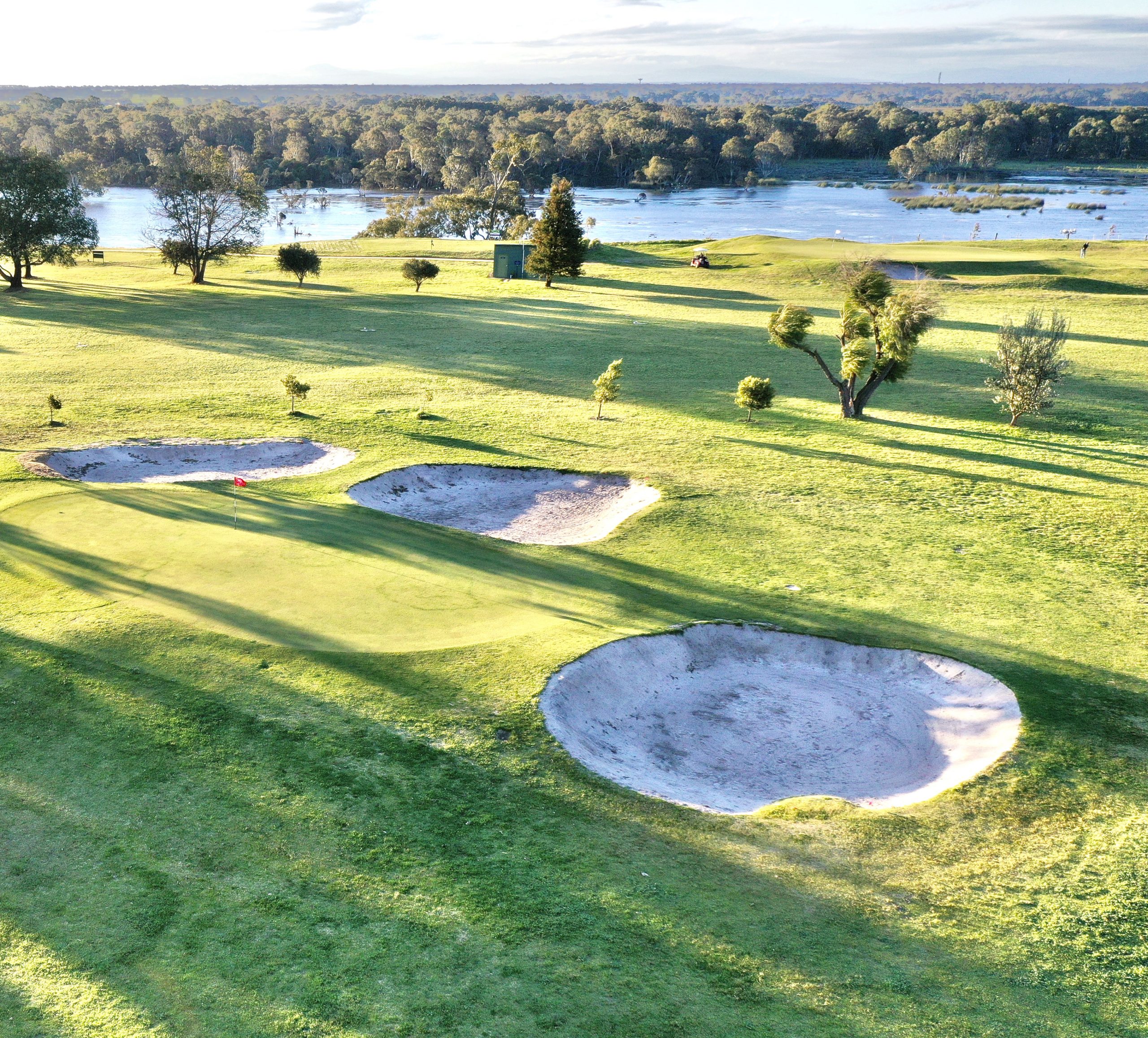 Liam Durkin
AS one of the few sports available for people to play at the moment, golf clubs across Gippsland have capitalised on the surge in demand for those looking to get out and enjoy some fresh air.
Although groups are now limited to four people, golf courses have nevertheless been inundated with footballers looking to find a sporting replacement for their usual weekend activity.
Most local footballers have played some form of golf before, either socially, for charity or as part of a club function, and could have the sport in mind as something to transition into post-football.
During a normal season, many footballers will spend the day after a match on the golf course, more so for mental relaxation and to spend some quiet time away from the week-to-week grind of training, recovery and getting up for each game.

Every Gippsland League player has access to a golf club sharing the same name as their football-netball club, and probably knows a senior ex-player or coach that now frequents their local golf course.
Here, we look at golf courses from current and former towns associated with the Gippsland League.
Holes: 18; par: 70; course difficulty: moderate.
SALE Golf Club offers a pleasant retreat in a sylvan setting, with gentle undulating fairways a feature throughout.
A highlight of the course is the panoramic view which takes in the area surrounding Long Waterhole on the front nine, which provides some tranquillity before teeing off.
As the course sits some distance above the Waterhole, if a right hander slices a drive it may well find its way "into the drink", or even into the stock yards if playing on the fourth hole.
No doubt many golf balls have been found lodged in the mud at the stock yards over the years. Sale Golf Club is actually located in Longford, and is on Rosedale-Longford Rd.
Holes: 18; par: 72; course difficulty: moderate.
MAFFRA Golf Club is surrounded by farmland and its course is lined with mature trees, while the backdrop of the Great Dividing Range offers quite a picturesque sight for locals and visitors alike.
Players tee off from the first and 10th hole from a slightly raised brick box, before making their way along well grassed fairways.
Although the course is relatively flat, players cannot simply "hit and hope" in order to get around effectively.
The club is home to the popular Rusty Shovel Golf Day hosted by Southern Rural Water, and also has a powered caravan park on premises for those wishing to extend their stay.
Maffra Golf Club is located on the eastern side of town, just a stone's throw away from the town's sporting hub – Cameron Sporting Complex, at Fulton Rd.
Holes: 18; par: 71; course difficulty: challenging.
BAIRNSDALE Golf Bowls Club comes highly-rated, and its streamlined layout has seen it host many top amateur and pro-am events over the years.

As the name suggests, the club takes in the sports of golf and bowls, and players from the two codes are able to enjoy spectacular views over Eagle Bay as they go about the days play.
The course has some long par fours, with a number going beyond 400 metres.
A par-five and huge dogleg on the 18th will have golfers either smiling or swinging on their way to the carpark, depending on how well they finished.

Bairnsdale Golf Bowls Club is on Paynesville Rd, Eagle Point.
Holes: 18; par: 71; course difficulty: normal.
DROUIN Golf and Country Club collides the worlds of golf and horse racing.
The majority of the golf course at Drouin is situated within the horse racing track of the Drouin Picnic Racing Club, home to the famous Boxing Day races.
In keeping with the compact nature of the town's football ground, golfers at Drouin are able to enjoy a neat course which gives players plenty to look at as they drive or walk around.
Those with an interest in horse racing will love teeing off from the third, as the tee box is located above the home straight.
The race track itself is rustic, with a great deal of history clearly evident from old railings and primitive stewards' towers.
Drouin Golf and Country Club is conveniently located just off the Princes Highway and can be found virtually straight off the Drouin-Robin Hood exit ramp.
Holes: 18; par: 71; course difficulty: moderate.
LEONGATHA Golf Club is seen as a destination course for many golfers, and is often cited as a course "you have to play at least once".
The course's reputation has probably been solidified ever since Verm Morcom laid out design plans in the late 1950s. At the time, Morcom was course superintendent at Kingston Heath Golf Club, which has to date hosted seven Australian Opens, two Australian Masters and the World Cup of Golf.
Leongatha offers a nice balance in that it is challenging to a seasoned golfer and manageable to someone just starting out.
The natural beauty of the course is of particular note, a by-product of which makes for a clear mind before taking each shot.
Leongatha Golf Club is located at 855 Koonwarra-Inverloch Rd, Leongatha South.
Holes: 18; par: 72; course difficulty: normal.
MOE Golf Club incorporates an easy-to-navigate course, and is ideal for those looking to have a twilight hit during daylight savings or a relaxing Sunday social.
The course is surrounded by towering native gums and dense bush land, adding to the secluded nature of the make-up.
Players on the third green will be able to look up and see one of the cooling towers at Yallourn Power Station, while those on the back nine are also afforded a nice view of Lake Narracan.
Those new to the game are encouraged to play the back nine as it is much more open and relatively flat.
The hole four par-three is probably the most idyllic location on the course, with players needing to get the ball over a creek in order to get near the green.
Moe Golf Club is located at Thompsons Rd, Newborough.
Holes: 18; par: 72; course difficulty: normal.
MORWELL Golf Club encapsulates all the aspects of a place known as the 'Town of Gardens', with a well-presented course and manicured greens.
The course has generous fairways and is suitable for players of all abilities, and also takes in splendid views of the nearby wetlands.
Morwell Golf Club makes up a conglomerate of sporting complexes in the area surrounding it, with Latrobe Stadium, Crinigan Rd reserves and Peter Siddle Oval all within relatively close proximity.
Morwell Golf Club is located at Fairway Drive, Morwell.
Holes: 18; par: 72; course difficulty: normal.
TRARALGON Golf Club strikes drivers making their way into the regional city from the west, and is instantly recognisable after the chain of car dealers along the Princes Highway.
The Traralgon course is well-resourced and plays true throughout, and players get a sense of history as they walk after their ball thanks to the many famous names who have graced its fairways.
Undoubtedly the biggest name to play at Traralgon is Greg Norman, who won the Traralgon Classic in 1978 and 1979 in his early 20s.
The club has conducted one of country Victoria's most prestigious pro-ams for more than two decades.
Holes: 18; par: 71; course difficulty: moderate.
WARRAGUL Country Club carries with it a calm atmosphere, making for a good day's golf.
The aesthetically pleasing course is highlighted by regular elevation changes. The front nine requires deft touch to negotiate tight spaces, while the back nine if far more open.
As one of Gippsland fastest growing towns, Warragul Country Club is superbly located, just around the corner from Western Park, making it easily accessible to golfers from neighbouring areas such as Buln Buln, Rokeby and Brandy Creek.
Warragul Country Club is at 41 Sutton St, Warragul.
Holes: 18; par: 71; course difficulty: normal.
WONTHAGGI Golf Club is set on more than 100 acres and is another quaint country course which allows its natural surroundings to enhance the playing experience.
A noticeable feature of the course is the number of grass bunkers that have slowly replaced sand over the years.
The course offers an attractive option for a weekend retreat, with many tourist attractions in Phillip Island and Inverloch not far away.
Wonthaggi Golf Club is also a great social hub in town, having leased its clubhouse to The Wonthaggi Club in 2015.
Wonthaggi Golf Club is at Dr Sleeman Drive, Wonthaggi.
Holes: 18; par: 72; course difficulty: moderate.
HEYFIELD Golf Club is set upon dense woodlands in what is a nice homage to the town's proud timber industry.
Across the course, many tee boxes have logs acting as benches for players looking to catch a quick break before getting back into it.
On the front nine, the hole four par-five offers a daunting challenge, with players needing to nail a good drive and second shot to be any chance of registering a decent score. A blasted tea-tree not far from the green has caused many a golfer at Heyfield to wither away in mental agony.
Fittingly, given the Heyfield Football-Netball Club is known as the Kangaroos, the marsupials themselves can often be found emerging from the bush to bounce around the fairways.
Heyfield competed in the Gippsland League between 1960 and 1974.
Heyfield Golf Club is located at Golf Course Rd, Heyfield.
Holes: 18; par: 70; course difficulty: normal.
CHURCHILL and Monash Golf Club houses a somewhat unique golf course design in that players are able to play 18 holes, but the course itself only has 11 tees.
As such, the first tee is also the 10th tee, the second the 11th, and so on. This continues throughout the course, with the exception of two tees, given there are 11 all up.
Like the town itself, which has only been around since the early 1960s, the course is also relatively new, and was established in 1982 as a six-hole course under the banner of the Churchill Hotel Social Golf Club.
Over time, three holes were added and the club took in the name "Churchill Monash", after the university campus in which it is located.
Although Monash University Gippsland has since become Federation University, the Monash name has stayed.
The course requires some hiking, with two holes instructing players to "leave buggies here" before making their way up a steep slope to tee off. Strong balance is required on the eight and 17th fairway, as players find themselves standing on a 45 degree angle when they take their shot.
A lake behind the green with the university campus in the background offers a good photo opportunity, and no doubt many students have skipped classes to have a hit on a sunny day.

Churchill competed in the Gippsland League between 1984 and 1994, and were known as the Kangaroos during this time.
Churchill and Monash Golf Club is situated behind the northern end of Federation University and can be accessed via Mary Grant Bruce Drive, Churchill.
Holes: 18; par: 72; course difficulty: normal.
YALLOURN Golf Club is virtually opposite Moe Golf Club, with local green fee players often alternating between courses.
Elevated tees are a staple at Yallourn, as the ball is often afforded the luxury of rolling downhill on a number of fairways.
Although the club is technically located in Yallourn Heights, for simplicity, most associate it as being on the outskirts of Newborough.

Yallourn Golf Club, along with Yallourn Bowls Club, also located in Newborough, have ensured the Yallourn name lives on in some capacity.
The Yallourn township was established to house employees of the State Electricity Commission, and at its peak had a population of 5000. In the 1980s the town was dug up to expand the open-cut at Yallourn Power Station.
Yallourn competed in the Gippsland League from 1954 to 1976, before merging with Yallourn North, which played in the major league as Yallourn-Yallourn North between 1977 and 1985.
By all reports, the old Yallourn oval was the best in country Victoria, with its surface even comparable to that of the MCG for the 1956 Olympics. Yallourn Golf Club is at Golf Links Rd, Yallourn Heights.
Holes: 18; par: 69; course difficulty: normal.
GARFIELD Golf Club is another neat little country course that suits players off all skill levels.

Long side-by-side fairways on the back nine stand out, giving golfers a good opportunity to use different irons.
Garfield played in the Gippsland League from 2002 to 2009, originally making up the western division of the West Gippsland-Latrobe Football League.
Garfield Golf Club is located at 180 Thirteen Mile Rd, Garfield.
Holes: 18; par: 70; course difficulty: diabolical.
TRAFALGAR Golf Club is one of the most highly acclaimed courses in country Victoria, and people travel from far and wide to try and conquer its array of challenges.
Regarded as a true hidden gem on the local golfing circuit, the course sits at the foothills of the Baw Baw Ranges and provides a beautiful environment in which to play a round. That being said, there is no denying the difficulty of the course, with 12 of the 18 holes either having or close to water hazards, while a number of greens slope dramatically downhill.
The course demands a high level of accuracy, so players will often have to sacrifice distance in order to keep their ball in play.
A happy hacker probably won't last long at Trafalgar, and could easily lose half a dozen balls before the fourth hole.
Trafalgar competed in the Gippsland League between 1954 and 1968.

Those up for a real challenge would be well advised to visit Trafalgar Golf Club at 230 Gibson Rd, Trafalgar.