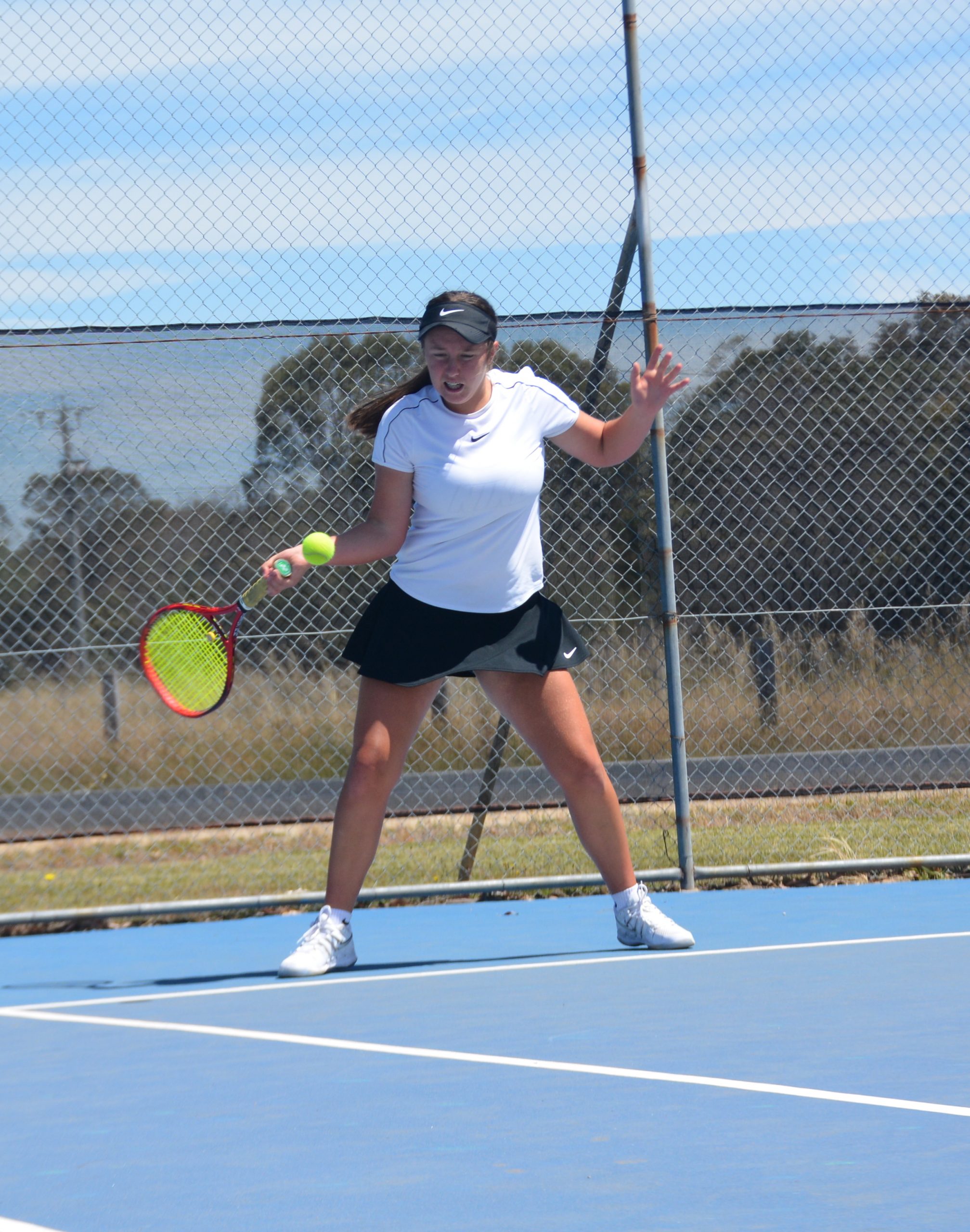 Sarah Luke
LOCAL tennis players are champing at the bit to get back into the swing of things this weekend, when Wellington Gippsland Tennis Association's senior pennant returns on Saturday from 1pm.
In section one, some players will be excited and others spooked to see the competition has strengthened significantly during the break, with a return to Gippsland Premier League-like standards, last played in 2012.
Heyfield will toss its hat in the ring, providing a section one side for the first time since 2016.
The side will be headed up by the club's new coach, Tristan Salerno, and Traralgon tennis prodigy Chelsea Elliott, ranked an impressive 357 in Australia at age 14, and the number one ranked Victorian for her age.
Former Maffradites Dave Taylor and Mark Chantachak have returned west, and will be joined by staunch Heyfieldians April Burton and Di Sundermann to form the remainder of the Roos' section one team.
After a brief appearance in the competition two years ago, Bairnsdale rejoins the association in section one and two, and boasts an intimidating section one line-up.
Joining Bairnsdale Tennis Club last year as head coach, Gavin McCoy has taken the local tennis scene by force, proving his worth captaining Bairnsdale in its biennial challenge against Sale.
McCoy will be bolstered by 18-year-old Toby Radford, who represented Australia last year as part of an all-Indigenous team at the Fiji Open, and Gippsland Sports Academy's Jordan Johnston, who at 16-years-old, has an extremely impressive resume of tournament credentials.
Bairnsdale's women will include former Nicholls State player Steph Barnett, who grew up in Bairnsdale and undertook tertiary studies in Louisiana, USA – ending her college career with an impressive 64-20 record in singles, playing 72 matches at number one in the Southland Conference.
Barnett has solid back-up in Bairnsdale favourites, 17-year-old Amber Archer and Keryn Scott, who has made the transfer back east from Sale this season.
Sale has submitted two section one sides this year, welcoming back some old faces.

After a short hiatus, Mark Elliman and Kelly Hudson (née Krusic) will rejoin Sale's line-up. Former club champion finalist Elliman hasn't been a mainstay in summer pennant since 2012, when he played for Sale in GPL, but is still extremely handy with a racquet – particularly on Thursday nights.
There will be no dodgy line calls on Hudson's court – the former club champion was also an umpire on the professional circuit for 11 years, umpiring at Wimbledon and the French, US and Australian opens.
After dipping her toe into the sport two years ago at Country Week and bringing home a trophy, it appears Hudson has re-caught the bug, appearing in the association's Monday ladies competition and now summer pennant.
While Longford won't field a section one team this year, it appears Longford's loss is Sale's gain – half of its former players have been able to get a game, with Sale picking up Regina Virgo, and the two of the three Boards.
Jess Board will make her section one, line one debut for Sale – joined by her father Cal, who will play in line two.
Jess isn't the only junior to make an impressive step up this year, with fellow junior Eli Sims joining Sale's section one lineup after moving to the area earlier this year.
Sale coach Anthony Zafiris will captain one of the two sides, with Tim Dunnett at the helm of the other.
Sale president Robin Lowe said the club was delighted to have two more senior teams than last season.
"This goes against recent trends, and gives us a lot more optimism for the future," Lowe said.

"We have 12 juniors coming through into senior ranks [across all sections] this year which is very encouraging, and forms the basis of our future teams."
This season, Stratford will welcome back its number one woman and local coach Nicole Bauer, who was absent from the club's lineup last year, but will bring some powerhouse play to the club's new hardcourt this summer.
Bauer is joined by Christine Shingles, whose badminton expertise makes for a mean midcourt smash, an ambidextrous Emma Nowak and dark horse Anna Norris.
After the loss of former number one man Andrew Ross to a Sale section two side, father-son duo Josh and Mark Kennedy will be pleased former Sale player Tom Foley and his potent forehand winners will head up Stratty's men in the line one spot.
Defending champion of the past three seasons, Maffra might have a hard time defending its crown this year, but will be led into battle nonetheless by section one stalwart captains Jake Weir and Mitchell Allman.
The club's women have been split into experience, with seasoned grass courters Alecia Dignan, Julie Foat and Kaylene Runciman promising plenty of crafty grass court moves – moves young guns Natalie Allman, Kasey Dessent, Zara Flynn and Sarah Luke are learning fast.
Maffra's men will bring plenty of endurance and vitality to the section, as the club hasn't put forward a man over the age of 32 – with the exception of veteran Mick Luke, who apparently still has a thing or two to show these young blokes.
Maffra Lawn Tennis Club will host the grand finals this year across all three sections, ahead of a major clubroom renovation scheduled after the season concludes.
The strengthening of the competition's premier section has flow-on effects for the sections below, with the strongest section two competition in years.

In fact, 12 teams will battle it out for the title of section two premier, with Sale fielding four sides, Maffra three, Heyfield two, and Stratford, Longford and Bairnsdale one each.
Section two has received its fair share of former section one players.
Sale can now boast the likes of Andrew Ross, Lisa Harrison, Mark Dipietro, Jackie Richards, Di Arnot and Carmel Elliot in section two, while Maffra will gain Neil Jeremiah from Yarram, Mick Pleydell and Jenny Luke.
While Sale holds the section three flag from last season, it might have a hard time holding onto it, with four of the six in the premiership team now playing in section two.
Sale has added an extra section three team to make two sides, with an impressive eight juniors making the leap for a full day of Saturday tennis.
Maffra will also field two section three sides, while Heyfield, Briagolong and Longford have stumped up one apiece.
With more people and more teams, this tennis season is shaping up to be a hit – but it will look a little different this year.

Local tennis players have already played under the COVID cloud, as the 2019-20 grand finals occurred the weekend before the March lockdown was enforced – meaning appropriate protocol, such as touching racquets instead of shaking hands at the conclusion of a set, will almost be second nature to some.
As a sport with in-built social distancing, tennis players were able to keep the rust off their racquets throughout the COVID-19 restrictions period at their local courts, provided they adhered to venue limits and basic hygiene.

Until Tennis Victoria advises otherwise, there will be no spectators – this means for bottom junior sections, only one supervising parent will be allowed inside the venue. Others may attend, but must remain in their individual cars to watch.
While players will be able to remove face masks while on court as they partake in some seriously strenuous exercise, they must still have one on them, ready to put on for any off-court business.
Different clubs may have different ways of tracking attendees – whether this is through a sign-in register or a scanable QR code – but each person who attends must sign in.
All indoor facilities must remain closed, except for the loos.

Cafés in clubhouses can open (subject to industry restart guidelines for hospitality), and tennis equipment must not be shared.
In terrible news for the senior players, at this stage in the season, there will be no shared arvo tea, but fingers and toes crossed this may change as restrictions lift.
Section one: Stratford v Maffra Weirs, Sale Dahlsens v Mafra CSC, Sale Findex v Heyfield, Bairnsdale bye.
Section two: Bairnsdale v Maffra All Round, Stratford v Maffra Pund, Sale KFC v Maffra GRE, Sale Graze v Longford, Sale GCP v Heyfield White, Sale CS v Heyfield Blue.
Section three: Longford v Sale Glencoe, Maffra Wilmours v Maffra Adams, Sale Elliman v Heyfield, Briagolong bye.