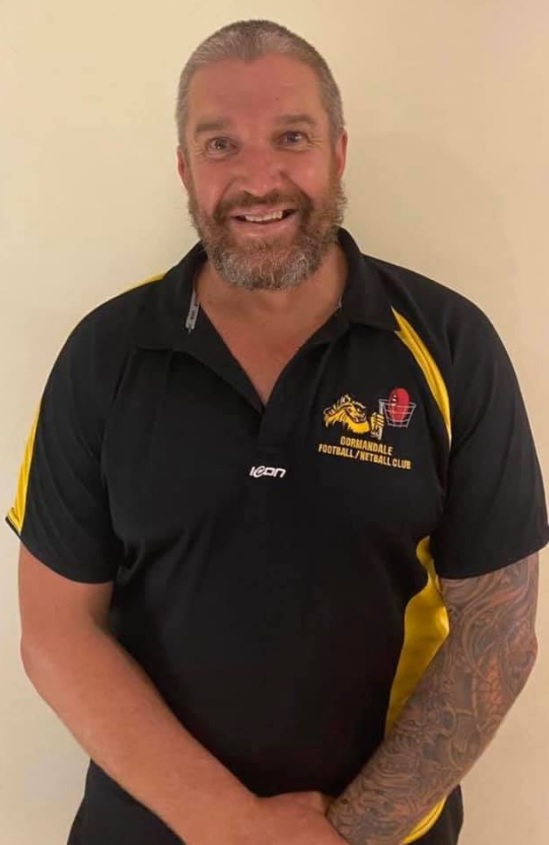 Liam Durkin
OF all the challenges in local sport to take on, returning Gormandale Football-Netball Club senior coach Daniel Earl might just have the biggest one.
The Tigers have not won a game since August 2018 – and in fact have only won five games in the past five years.
Gormandale has collected the wooden spoon in three of the past four completed seasons (2016, 2017 and 2019) and also holds the unwanted distinction of having two 'golden basement' awards to its name for going through two seasons without winning a game.
Given Gormandale's recent history, Earl, who will be vying for take-two of his senior coaching career after the 2020 season was cancelled, admitted the road ahead would be arduous.
"As everyone knows it's going to be a battle," he said.
"We're under no illusion of where we're at, there is a lot of hard work to get back from here."
The Tigers did not even come close to winning a game in the 2019 North Gippsland Football-Netball League season, losing all 18 on end, 14 by triple figure margins.
Close to 60 players bravely pulled on the yellow and black jumper at some stage last season, as the small town banded together to ride it out as best it could.
The rumour mill was rife at times with talk of Gormandale's future, however, the appointment of Earl and the recruitment of a few players breathed new life into the proud club.
As a former Gormandale player, Earl had also previously coached Moe in the Gippsland League, and was able to entice a few players to come across with him.
Key position players Karl Mutke and Josh Pearce signed on, along with Luke Mackay and John Chessells, who are expected to roam between the arcs.

"We were lucky to get a few from other clubs," Earl said.
"It was really hard to convince them to come across at the start, now that they're on board they've fitted in so well."

Leading into season 2020, Gormandale was able to get some practice matches in before things were shut down, managing a couple of wins and showing promising signs.

With 2021 on the horizon, Earl said while the squad was determined to enjoy better fortunes on the field, patience was required to enable a solid foundation to be laid.
"We have to be realistic about where we've come from," he said.
"We are coming from 10 goals worse than the second-last side, so we have a lot of hard work to do.
"But from the pre-season that we done and how far we are ahead now, we know the game plan, everybody knows each other and we won a couple of practise games, so I'd be expecting to win three to four (proper games next season).
"We're probably going to expect a blow out or two, but if we weren't competitive in 70 to 80 per cent of our games I'd be really disappointed."
As a speck of a town which probably wouldn't exist without the football-netball club, Earl said the motivation was there to reward a number of people who have shown enormous faith.
"Some guys have stuck through us through really hard times," he said.
"The supporters that come down they are forever loyal, and that's what drives me a lot – to give these guys some success.
"We've got Steven Burgess and Gavin Swann, who have played 300 games and been starved of success.
"Ryan Burns – team of the year in the North Gippsland league and played at the Gippsland League level – could easily jump ship if he wanted but stayed loyal, so my drive for me is give these guys a little bit back."
Those supporters who have been at the club for a while will be hoping for a return to the glory days, where the Tigers were one of the premier teams of the NGFNL.
What seems to be forgotten about is just how successful Gormandale has been – with six premierships in 14 years during the 1980s and 1990s, including two seasons where they went through undefeated.
The course of history could have changed during the late 2000s, where the Tigers narrowly missed a premiership window between 2008 and 2010.
In 2008, Gormandale claimed the minor premiership but lost the grand final by three points, and then in 2009 came from fifth place on the ladder to getting within four points of making the decider. The Tigers made the preliminary final in 2010, when their reserves won the premiership.
While there has been some lean years since, Earl said the infrastructure was in place to give the Tigers some hope moving forward.
"Behind the scenes we're working extremely hard," he said.
"To see the smile on some of the guys' faces – some of them who have supported the club for 40 years – that's rewarding for me as a coach to see them happy and know that we're doing something right.
"Before I signed on I was hearing all the rumours 'Gormandale are gonna fold' and 'they're in a lot of strife'. We're travelling okay, we're okay off the field, but there's a bit of work to be done."
The Gormandale-Heyfield clashes next season could carry a bit more spice, with Earl up against sparring partner and Kangaroos coach Rick Galea.
"Rick and I are pretty good mates, Rick's a good fella," Earl said. "A lot of banter will be to and fro."