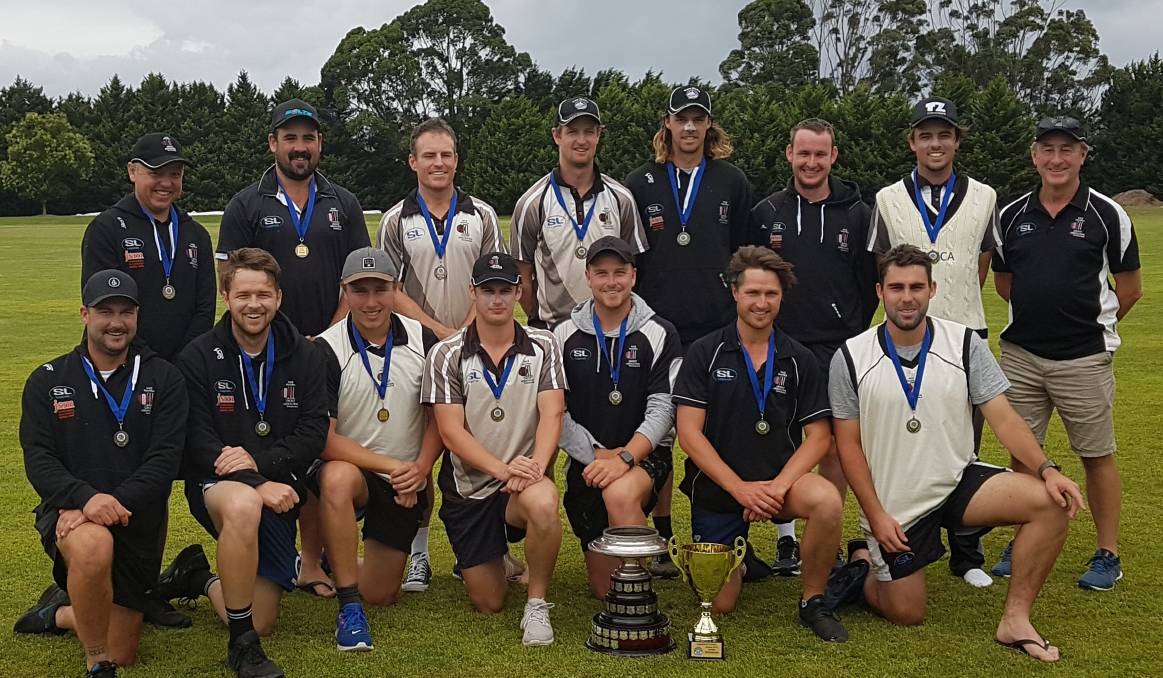 Liam Durkin
REPRESENTATIVE cricket will begin this Sunday in the Gippsland Cricket League for senior men's and under 18 grades.
A new format has been introduced this season to minimise any potential disruptions from COVID-19.
Unlike the usual five season where all six Gippsland associations play each other once, this season they will be split into two pools of three teams.
Teams were selected at random to occupy places in the pools, and as luck would have it, the selections also made sense based on geographic location. Sale-Maffra, Traralgon and Bairnsdale will make up pool A, while Latrobe-Valley, Leongatha and Warragul will compete in pool B.
Each team will play a match at home and away and also have a bye during the pool stages.
The top two teams in each pool after three rounds will qualify for the semi-finals, while the teams that finish third will play a consolation final.
SALE-Maffra will enter the 2020-21, campaign aiming to make it a hat-trick of premierships and continue its recent domination of GCL cricket.
The Sharks have won four of the past five GCL premierships and another title this season could see them on track to match the five-in-a-row effort from the squad of 2002-03 to 2006-07.
The side will retain the bulk of its premiership team, although skipper Jack Rietschel, who has moved to Premier Cricket, will be a key out.
Rietschel had a productive 2019-20 GCL campaign, with the quadruple honour of captaining the premiership team, being named captain of the All-Gippsland XI, winning player of the tournament and player of the final.
Traralgon will be led by Lee Stockdale, and the all-rounder should have no shortage of high quality options to help fill the team.
As well as Stockdale, many players in the TDCA have played at state and Victoria Country level, such as Jordan Gilmore, Jake Best and Nathan Freitag.

Gilmore has put together many swashbuckling innings in GCL cricket, while Best has three Victorian Premier first grade centuries to his name, and Freitag was part of the Hobart Hurricanes academy. Freitag's last GCL appearance was a virtual cameo, as he scored 128 in near 40 degree heat two seasons ago.
The addition of Yarram and District into the TDCA has brought added depth to the association, which could prove handy during the campaign. Yarram skipper Anthony Scott is a proven match-winner, and has sent many a ball sailing over the fence in GCL cricket during his career.
If the Yarram Scott suits up for the TDCA, he could be pitted against his brother, Brad, who is often part of the SMCA team.
The Tornadoes were the only team to defeat Sale-Maffra last season, and will be eager to repeat the effort at the Traralgon Showgrounds on Sunday.
LATROBE Valley will travel to Hallora to take on Warragul.

The Wilddogs' 2019-20 season was book-ended by wins, but unfortunately, those were the only two wins they were able to achieve.

Warragul will be hoping opening batsman Jack Armour has another solid season after gaining a place in the All-Gippsland XI last season, while a fully fit Sam Batson will offer plenty with bat and ball.
GCL stalwart Fraser Duncan is also expected to feature prominently, as is Damon Healy, who will be familiar with the Hallora ground after transferring from Drouin to take on the coaching job.

Those in local cricket circles might look on with interest to see if the WDCA management has any luck enticing Jordan Wyatt and Nathan Lambden to play before the pair head back to Casey-South Melbourne when the city season starts up. If Lambden plays he will surely be the quickest bowler gracing the field on Sunday.
Latrobe Valley could also have some Casey-South Melbourne players to choose from in Blair Clymo and Joel Mitchell, who has returned to Moe after a few seasons downtown.
If selected, Mitchell will more than likely open the batting, as he did when he last played GCL for the then-Central Gippsland Cricket Association in the 2015-16 final.
Clymo will rejoin Casey-South Melbourne in coming weeks, so Latrobe Valley will be keen to have him represent the league while he is available.

Latrobe Valley will want to atone for last season's disappointing finish, and regain some street credit in 2020-21.

John Keighran and Liam Maynard will be pillars for the team at the top of the order, and could be hard to stop if they get going.
BAIRNSDALE and Leongatha have the bye for the first round.
Sunday, January 31 has been saved as a reserve day should the GCL season be interrupted.
IN the under 18s, Sale-Maffra and Traralgon will meet at College Oval, and Latrobe Valley will play Warragul at Morwell.
THE women's season has already begun, and round two will be played this Sunday.
Latrobe and Sale-Maffra will play at Peter Siddle Oval, and Bairnsdale and Centrals will meet.