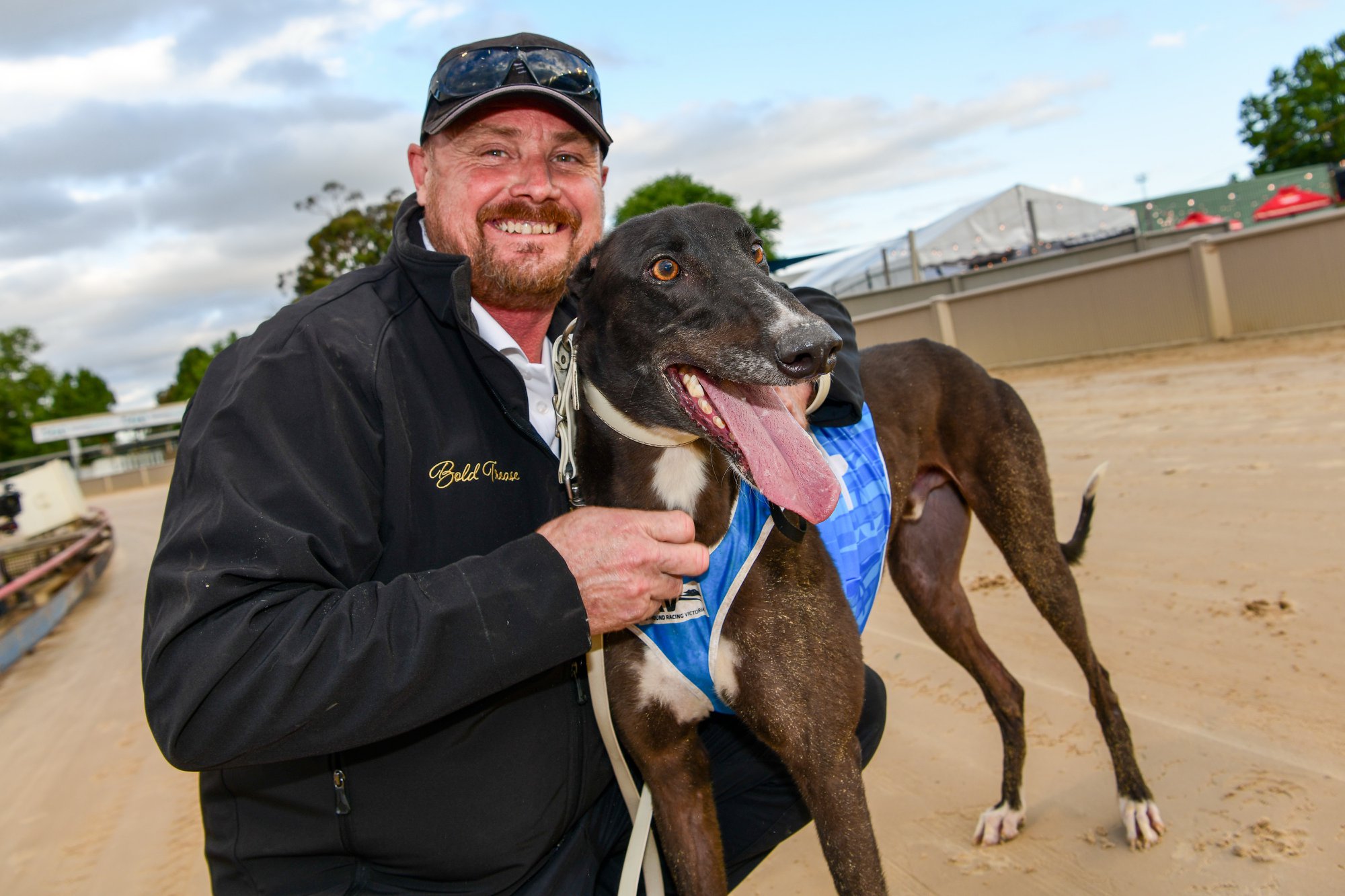 Gerard Guthrie
CURIOUSLY-named veteran I'm Easy Boys and a syndicate of first-time greyhound owners are chasing a fairy tale group one victory in Saturday night's Sale Cup final.
At start number 72, I'm Easy Boys will make his first appearance at group one level in the Sale Cup, with TAB marking him a $16 outsider from box eight.
Heathcote trainer Ray Henness purchased I'm Easy Boys as a three-month-old pup.
"A group of guys from Bendigo rang me about getting a dog and I told them to come out to the farm and have a look at a couple of pups I had here," Henness said.
"I didn't know them from a bar of soap and they'd never had a greyhound before – they didn't have a clue about dogs – but they picked him out.
"It's a strange name. Apparently it came about when the syndicate were trying to come up with a name for him and the boys kept saying 'I'm easy!' They didn't really care what he was called.
"They're over the moon about making the final. It's a long drive from Bendigo to Sale and Boxing Day makes it a bit awkward but maybe we'll get a couple of owners there."
I'm Easy Boys' only previous appearance in a group event came back in October 2019, when he ran third to future superstar Simon Told Helen in the Great Chase, while last month he was first reserve for the group one Bold Trease.
It was an impressive third to $2.20 Sale Cup favourite Houdini Boy in his Bold Trease heat which convinced Henness to target the Sale Cup.
And his judgement was vindicated when I'm Easy Boys stormed over the top of odds-on favourite Last Hurrah to win his Sale Cup heat in 37.06 seconds for the 650 metres, his 18th win from 71 starts.
"He's no superstar but gee he's honest," Henness said.
"He's definitely not the fastest dog I've had but he'd be one of the most honest. He tries his heart out every time you take him to the track.
Henness admitted I'm Easy Boys' cup prospects took a major hit when he drew box eight however he does feel near-record heat winner Houdini Boy could be vulnerable after also drawing awkwardly in five.
"I've drawn horrible but that's the way it goes," said Henness.
"He's only a rough place chance from out wide. If he'd drawn one, two or three I would've given him a chance but we don't have any expectations.