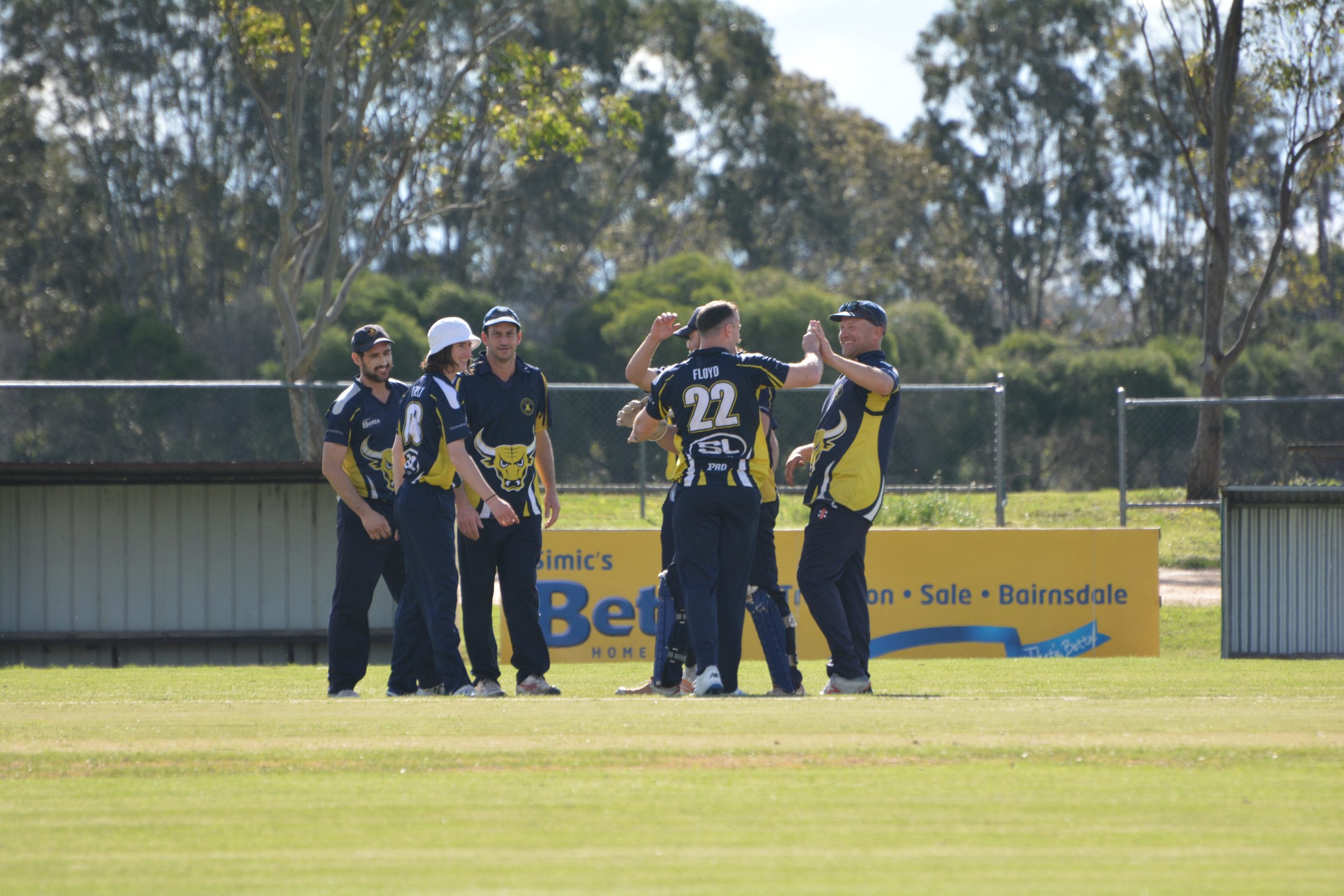 Liam Durkin
BUNDALAGUAH jumped into the top four on the Sale-Maffra Cricket Association ladder at the weekend.
The Bulls scrapped over the line by one wicket against Collegians, chasing 133 with 13 balls to spare.
Gayashan Munasinghe and Nathan Whitford were the heroes, putting on 19 for the final wicket. The pair showed great resilience, getting the required runs in singles, twos and a couple of threes in a 47-ball vigil.
Earlier in the day, Collegians found handy contributions from a number of players, but the home team was unable to press much of an advantage and was bowled out in the 33rd over.
Zac Hurley and Jayden Allison looked set after putting on 37 for the opening wicket, but the dismissal of Hurley for 23 from 27 balls saw wickets fall at regular intervals thereafter.
Munasinghe found immediate success when he was introduced into the attack, taking the wickets of Hurley and Allison in his first four balls.
Jake Wynd and Lachlan Floyd were also busy, taking 2-29 and 3-24 respectively. Floyd dismantled the College middle order, and went to the top of the league bowling aggregate in the process.
The situation appeared dire for Collegians at 8-99, yet some smart batting by Tim Dessent, who remained unbeaten on 22 from 23 balls, allowed them to scratch out a total of 132. Munasinghe finished with 3-28 and Whitford took 2-28 after coming back for his second spell. Bundalaguah would have hoped to take momentum from its bowling into its batting, however, things quickly took a turn for the worse.
Noah Hurley had the new ball zipping around, and took two wickets in his first three overs to leave the Bulls reeling not long after at 4-19.
An uncharacteristic 47-ball knock which only yielded 14 runs from Steve Spoljaric gave a good indication of how well College was bowling in the conditions, and when the Bulls fell further to 7-51, Collegians' 8-99 all of a sudden looked like a decent effort.
Enter Jake Wynd, who came to the crease in the 18th over and produced arguably his best and most important innings in a Bundalaguah shirt.
Partnering with Nick French, who provided some revolutionary resistance, the duo put on 60 for the eighth wicket to see the Bulls get within striking distance of the total.
After being told to simply "see ball hit ball" this season, Wynd did just that, whacking 44 from 32 balls with five fours and a maximum. French chipped in with 22 from 36, with his innings also featuring a number of boundaries.
The dismissal of Wynd kept Collegians in the game until the death, when Munasinghe and Whitford were able to hold their nerve.
Remarkably, the margin was identical to the last time these two teams faced off – only on the previous occasion earlier this season it was Collegians who claimed victory by one wicket.
Hurley bent his back all day and took 4-16, while Tom Morrison (2-14) and Mark Nichols (2-32) took multiple poles.
Interestingly, Collegians played the oldest trick in the book by naming Adrian Burgiel as designated non-batter in an effort surely to get him qualified for finals.
BOISDALE-BRIAGOLONG had a huge win in the context of its season, defeating Stratford by three wickets.
The win ensured the Saints remain only one game outside the top four and also continued something of a recent hoodoo for Stratford, as in the past three seasons the Redbacks have lost to Boisdale-Briagolong in every game after Christmas.
Batting first at Briagolong, Stratford closed at 9-173, helped by 60 from captain Taylor Tatterson.
Tatterson is certainly suffering no hoodoo on an individual level against the Saints, having scored 300 runs in his past six hits against them.
Redbacks coach Cormack Hassett scored 39 after shuffling down a few places in the order.
Wickets were shared for Boisdale-Briagolong, with Todd Mann (2-20), Dylan Bolton (2-38) and Jonny Lash (2-43) getting in on the act.
The Saints made harder work of the chase than they would have liked, but got through eventually.

Bolton top-scored with 34 and the coach would have been pleased to see the job wasn't left to one or two players. Michael Roberts and young Mason Annear each made 22 to assist the cause.
Andrew Tatterson took 3-31 for Stratford.
SALE got the job done against Longford.
The Lizards put in a good effort making 137 against the reigning premier, and saw some good individual performances. Kerrod Macgregor-Davies made a terrific 56, while wicketkeeper Coen Durbridge made 28.
Lucas Mowat (2-15) and Ben Jones (2-27) took wickets for Sale.
The Swans found a half-century of their own from Daniel Padula, who scored an unbeaten 58 to guide the team to the finish. Only a year out of juniors, Padula's innings could be the making of a long term opening bat.

Hayden Glover also made runs, scoring 32 as Sale won with eight wickets in the shed.

MAFFRA maintained top spot on the ladder with a nine-wicket pumping of Rosedale-Kilmany.

The Warriors were rolled for 116, which the Eagles chased within 30 overs.
Rosedale-Kilmany's line-up disintegrated fairly rapidly after most of the top order got starts before getting out.
Josh Davis led the way with the ball, taking 4-22, while Zac Kearns (2-15) and David Griffiths (2-20) added to their tallies.
Brett Lanigan (53 not out) and Daniel Bedggood (31) then made short work of the chase.