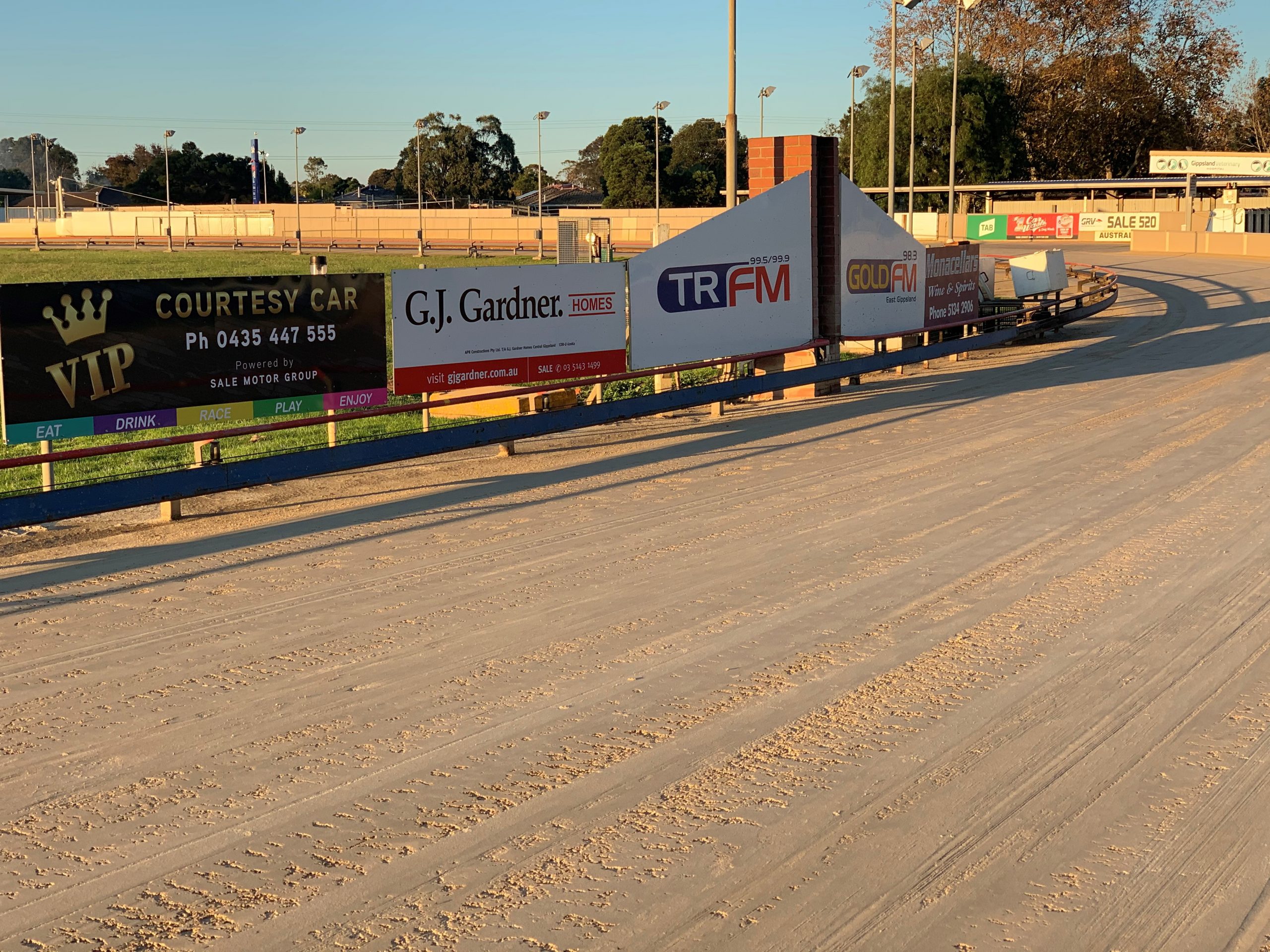 David Braithwaite
GOT The Torque won the feature of Friday night's Sale greyhounds meeting for Tinamba trainer Robert Bean.
After taking the lead on the bend, Got The Torque claimed the $7000 winner's cheque in 24.98 seconds, three lengths ahead of Citadel Of Chaos, trained by Des Douch at Maffra.
Darriman trainer Bill McMahon had three winners, beginning with Dr Carmel taking out race two, a 440m grade seven, by six lengths.
Dr Lynch won the race five 440m grade five by two lengths from Bomber's Wonder, trained by Geoff Green at Woodside.
In race seven, a 440m mixed grade four and five, Dr Madison was in third place entering the home straight, but held his inside line to hold off Omega Dodge, trained by Barry Harper at Seaspray.
Another kennel to claim three wins was that of Jordan Cooper at Lethbridge.
Crackerjack Dirt, trained by Carly Poulter, but owned by Cooper, won race three over 520m.
In race four over 520m, Cooper's Crackerjack Ads won a two-dog battle with Montaro, trained by Damian Meade at Hazelwood North.
Crackerjack then won the race 11 440m grade five for Cooper.
The night began with Go Rogue winning a 440m maiden for Brian Alford at Yarram. The second starter showed a clean set of heels, winning by seven lengths.
Colonel Diesel, trained by Douch, justified his favouritism in race nine, a 440m mixed grade six and seven, leading all the way to claim a win from four starts. Five lengths behind was Prize Diamond, trained by Susan Northway at Heyfield.
Race 10, over 440m, was won by Freddie Cruiser, trained by Lyn Smith at Nambrok, with Barwidgi third for Jenny Gill at Darriman.
Persian Goddess, trained by Ben Joske at Yinnar won race eight, a 520m mixed grade four and five, from Leo Rose, trained by Sharon-Lee Chignell at Rosedale, and Alford's Zipping Sense.
DARRIMAN trainer Bill McMahon produced two winners on Sunday night at Sale.
There was a McMahon trifecta in race eight, the 440m free for all, with Zachary winning in a fast 24.56s, finishing five lengths ahead of kennel mates Inuka and Maxwell.
Three McMahon dogs advanced to this Sunday's 440m mixed grade six and seven final, with Berdeen winning her heat, a length ahead of Wigram Road, trained by Cheryle Ragen at Kilmany.
Bobby Bean Rose won the first heat by six lengths for Luke Whelan at Metung.

McMahon's Dr Collette just grabbed second ahead of Barwidgi, trained by Jenny Gill at Darriman, to also advance to the final.
Sunnyside Pride, trained by Eddie Lieshout at Drouin West, won the second heat, four lengths ahead of McMahon's Harrison House.
The final heat was won by Patience Pays, trained by Adrian Smit at Longford, from Tarlee, trained by Gill.
True Collinda, trained by Sam Tyler at Boisdale, won the race one 440m maiden following a fast start.
After his win on Friday night, Bean returned to Sale to see Harper's Girl win the race five 440m grade five. A clear favourite at the tote, Harper's Girl cleared away early and won by three lengths.
In race six, the 520m mixed grade four and five, Airly Pablo, trained by Lesley Russell at Sale, was too strong in the home straight, while early leader Nowhere Nathe, trained by John Boreland at Giffard West, finished third.
Suspense Rules, trained by Alford, won race seven, the 440m mixed grade four and five, by a head, holding off a strong-finishing Massimo, trained by Dawn Johnston at Boisdale.
In the race 10 440m grade five, the leading dogs collided at the top of the home straight, with Got Girl, trained by Beverley Proctor at Alberton West, recovering first to win.
Fargo, trained by Emily McMahon at Darriman, won the race 11 440m grade five by half a length from California Blond, trained in Heyfield by Susan Northway.
The meet ended with Gotham Princes, trained by Sean Lithgow at Devon Meadows, winning the race 12 440m grade five from Alford's Sad But True.