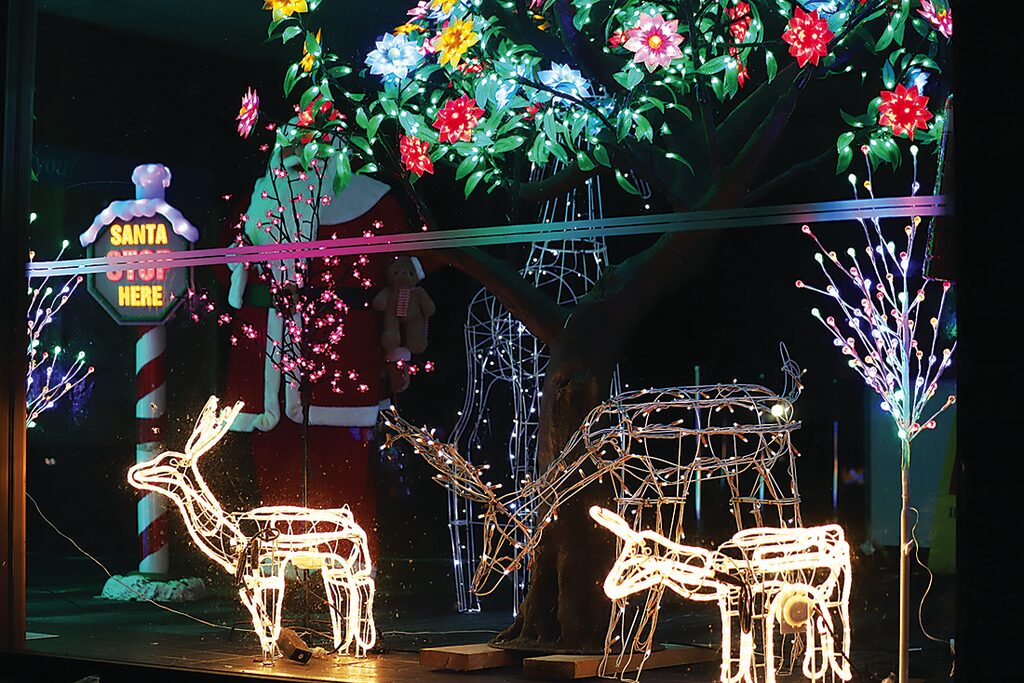 Sarah Luke
The Rowley family's Three Chain Rd Christmas light display has become a something of an institution for Maffra's Christmas lovers.
Each year, the Christmas light spectacular draws huge crowds, who enjoy the sausage sizzles, Christmas carols, face-painting and of course, revel in some magic of Christmas, all for a great cause.
The display is a loving dedication to Cindy's brother Ron, and since 2015, has raised more than $76,000 for the Beyond Blue Support Service.
Sadly, this year's COVID safe restrictions made admitting and monitoring attendees impossible.
Luckily, there was a solution to keeping Maffra's Christmas spirit alive and kicking.
Cindy approached the Maffra Business and Tourism Association to see if local businesses would be interested in displaying some of the family's personal collection of Christmas lights.
Now, as daylight fades, shopfronts along Maffra's Johnson St come to life.
The family has been busy working with business owners to kit out their window displays with glowing seasons greetings, Santas, reindeers and wreaths.
Maffra Business and Tourism Association president Adam Vardy said everyone needed an extra bit of Christmas cheer this year.
"It's been such a rough year, so to have such an extra effort from someone jazzing up the town, bringing out the young families and all the kids, it's really been appreciated," he said.
"It was great to see all the shop owners get on board to help out Cindy too.
"Everyone's time poor at the moment, and organising anything this year has been a struggle.
"Christmas really crept up on a lot of people, so to have the shop windows decorated and have that stress taken away has been great.
"And who knows, this could be a local option for Maffra that really grows into something."
Each evening, families have already been spotted perusing the main street, with the windows spreading a little Christmas cheer after a difficult few years.
The Rowley family hope the lights will spark a conversation amongst those who might want to ask for help but can't find a way.
People can donate to Maffra's Beyond Blue event online, via the QR codes posted in shop windows, or in the donation tins in the shops.
The Beyond Blue Support Service provides free, confidential and immediate counselling and referral 24 hours a day, seven days a week via phone (1300 224 636), 3pm to 12am via webchat and within 24 hours via email.