Stefan Bradley
Pure Envy and Co hair studio co-owners Jamella Sim and Tayla Knight will this month mark three years since they've entered into a business partnership.
"I started my apprenticeship here as a first-year, and in May it will be three years since I entered a business partnership with Jamella, who has taught me everything I know," Ms Knight said.
Ms Knight has been working at the Maffra hair studio for 10 years.
"Tayla Knight was my apprentice," Ms Sim said.
"We've worked together for years."
Ms Sim has been hairdressing for 17 years, and partnered with Ms Knight a few months before COVID hit.
"Jamella knew what she was doing, so she's been able to show me the ropes. So it was good to have each other as backup," Ms Knight said.
Ms Sim laughed and said she didn't know what she was doing during COVID.
"COVID made us busier if anything, because we had weeks of clients cancelling, and then we had to bring them all back in while our regulars made bookings, so a lot of haircuts," Ms Sim said.
"I don't think I would have been able to survive COVID as a business owner by myself, because I have two kids and it was stressful cancelling thousands of dollars' worth of clients.
"To have someone else there with you, saying that you got this, I would not like to have done by myself. They were tough times for sure, but tough times teach you lessons."
Ms Knight said that clients wanted to return to normal, pre-pandemic life.
"They want to come in and get their hair done and go out," Ms Knight said.
"A haircut is something you can't buy online."
Even in January during the first Omicron wave, the hair studio had a massive waiting list of clients.
"For a few weeks we had staff away who caught COVID, but they got it when they weren't at the studio. They caught it on the weekend and we are closed on Mondays, so we didn't have to close," Ms Sim said.
"Right now there's seven of us in the hair studio, so we have a great hard working team. We have a great hair salon vibe here, our staff have fun at work, and we're very welcoming to all who walk in."
Despite their many years and experience in the hair industry, Ms Knight says they have to brush up their skills to keep up with the changing trends.
"People will come in and ask for something specific, and you got to know what to do," Ms Knight said.
Ms Sim said that clients will mention celebrity names or influencers they found on Instagram.
"We got to Google these people, and we find that it's the young girls who are the first to mention the new trends, they're right onto it," Ms Sim said.
Ms Knight said that many clients are looking for upstyling and special occasion styling for weddings, debs and valedictories.
"And they want what's on trend, and what's trending now is big Hollywood curls and braids. We see Hollywood curls everywhere."
Sign out the front in Maffra. Photo: Stefan Bradley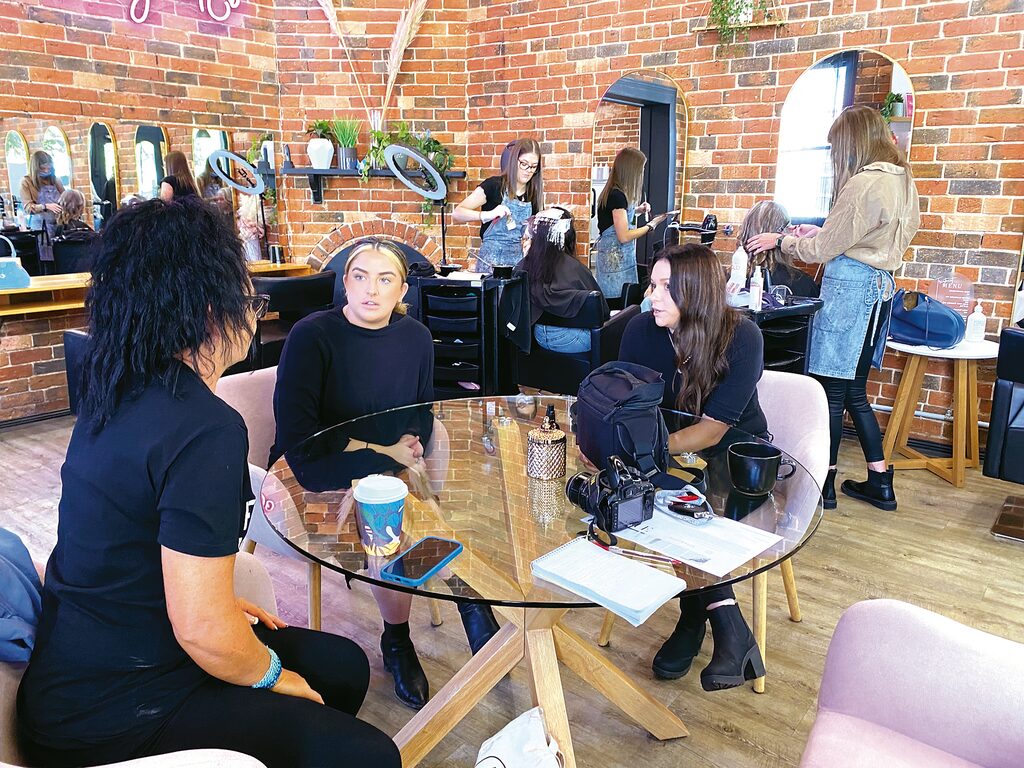 Multidisciplinary artist Cassie Leatham with Tayla Knight and Jamella Sim. Photos: Stefan Bradley