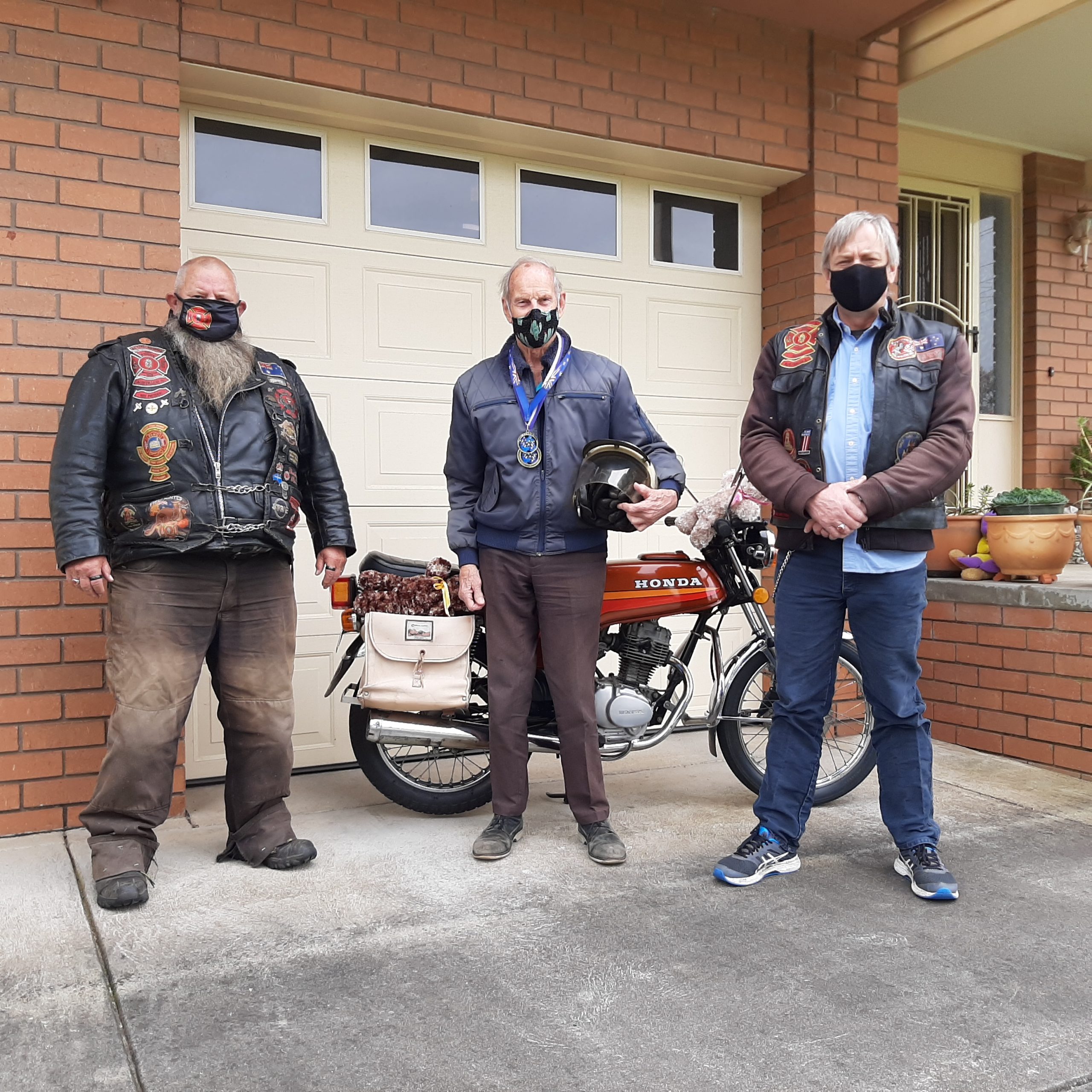 Liz Bell
BEING 85 years young has not put the brakes on Sale resident Doug Jones' enthusiasm for the annual Keith Hamilton Toy Run.
"I just love it, and I've been in it nearly every year since it started in the late 1990s," he said.
"It's great fun and the camaraderie of the other participants is fabulous.
"It's like a big family gathering – it's a great feeling of riding with mates."
Doug, who has won the oldest rider medal for the past five years, is gearing up for this year's ride on December 12, and along with other participants will be part of a major toy drive which raises money and provides essentials for families in need.
He will ride his cherished Honda 125 motorbike that he bought in 1982, and still rides regularly around the local area.
And while he may not be Peter Fonda in Easy Rider, Doug readily admits to still loving the sensation of being on the open road – albeit local ones – and the feeling of freedom and independence the bike provides.
"When the birds are chirping and the sun is shining, I'll get it out and go for a ride," he said.
His bike, now a collectible, has been garaged and maintained in mint condition, but still rises to the challenge every time, and will be at the starting line on December 12.
Sale Red Knights Motorcycle Club president Andy Young said Doug was a great example of the community spirit behind the initiative, and exemplified that the ride was about having fun, being in it, and supporting a good case.
"We'd love anybody who rides a bike to come along and be part of it, and for the community to come along and cheer us on and be involved in a great community initiative," he said.
The toy run is always a much-heralded community event in Sale, and was founded by the late Ian Kennedy. It was named after the late Keith Hamilton of Briagolong, who had suggested 20 years ago that Gippsland needed its own toy run.
Tragically, Ian was killed with his wife, Jan, in a car crash in Newry in November, 2017.
Ian ran the event for 19 years, donating toys to the Salvos and Vinnies to make sure disadvantaged children were supported.
As always, there will be two rides – one longer ride from Sale, through Rosedale, Heyfield, Newry, Briagolong and Stratford to Maffra, and a slower, shorter one for older bikes.
The first ride will depart the Sale clocktower at 9am and meet at the the Maffra Shed at 11.30am for the procession ride back to the clocktower for the presentation of toys from 12.15pm.
Mr Young said he hoped to attract at least 150 riders, and "COVID-willing", there would be a presentation and raffle with some great prizes at the end.
The club is asking for donations of non-perishable food, children's clothes, gift cards and donations to be left at GJ Gardner Homes, 85 Macarthur St, Sale, or Sale Motorcycles, 314 York St, Sale. Goods will be handed to the Salvation Army and St Vincent de Paul Society for distribution.