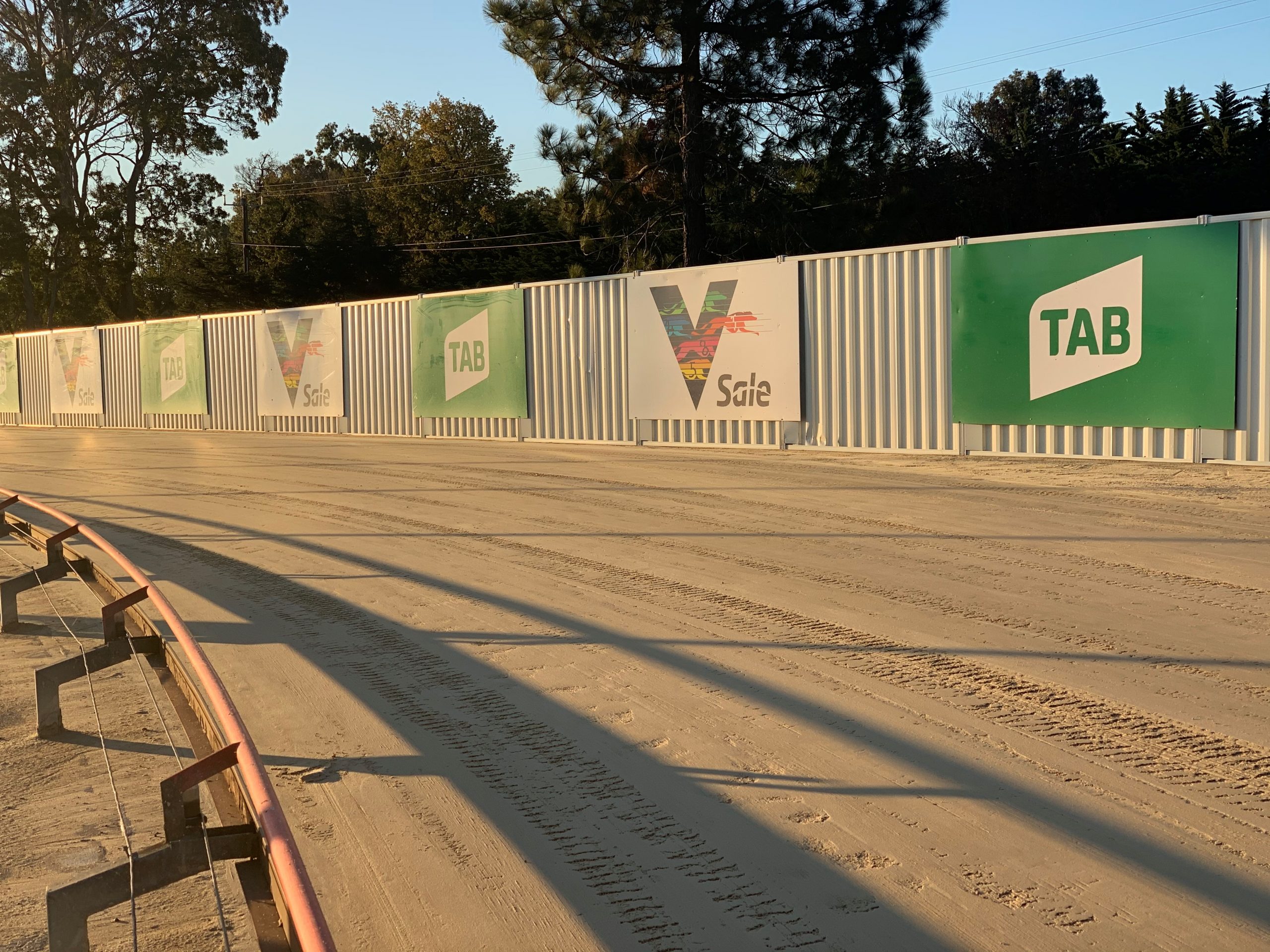 David Braithwaite
Local dogs to contest Speed Star series
MAFFRA-BASED trainer Des Douch left Sunday night's Sale greyhounds meeting with two winners.
After training a winner at Sale on Friday night, Douch's Ha Ha MacGyer continued his success on Sunday in race four, a 440 metre event restricted to dogs with one or two wins.
Winning in 24.9 seconds, Ha Ha MacGyer recorded back-to-back victories following two consecutive second placings to begin his racing career.
Finishing 6.64s behind in second place was Claydon, trained by Bill McMahon at Darriman.
In race 11, the second heat of the 440m series for dogs with three to six wins, Eilish (25.12s) came home strongly to win for Douch by a neck from Suspense Rules, trained at Yarram by Brian Alford.
The first heat was won by William Rose, trained by Sharon-Lee Chignell at Rosedale, in 24.83s, continuing a good run of form, which now includes two wins and a second from his previous three starts.
Slick Paws, trained by Susan Northway at Heyfield, snuck through for second.
The final will be held during this Sunday's meeting at Sale.
Chase The Magic, trained at Tanjil South by Kate Gorman, won the 440m maiden final in 25.29s.
Coming into the race as a reserve, Chase The Magic had a big finish, passing Whistling Bullet, trained by Ben Joske at Jeerlang Junction, and Dr Santiago, for Judith McMahon at Darriman, in the straight.
Gorman also tasted success in the next race, with End Game claiming the 440m race restricted to dogs with no or one win in 25.48s.
Race five, the 520m grade five, was won by Madalia Mick, trained by Robert Cook at Munro. Coming off a victory at Warragul on Monday, Madalia Mick was last out of the boxes, but worked his way to the front by the back straight, kicked on to win by seven lengths in 29.66s.
Litter brother Madalia Ken, trained by John Connor at Rosedale, won race seven, the 440m mixed grade four and five, in 24.99s, ahead of Dani Thrills, trained by Matt Clark at Briagolong. Dr Rozzie finished third for Bill McMahon at Darriman.
The program began with Aston Shine (25.24s) winning a 440m maiden for Catani trainer Tanya Sincock. Showtime Boomer was second for Clark and Pearl's Entity third for Lyn Smith at Nambrok.
Lara Lara, trained by Paul Mathieson at Lara, pipped Locked In, trained at Kilmany by Yvonne Andrews, at the post to win race six, the 520m grade five, in 29.68s.
Wild Card (29.78s), trained by Jason Thompson at Peacedale, claimed a third successive win in race eight, the 520m mixed grade four and five, ahead of Zipping Samara, trained by Carolyn Jones at Rosedale.
Race nine, restricted to dogs with two or three wins over 440m, was won by Chunk Of Love (25.3s) for Joske. Akina Archer, trained by Samantha McKay at Denison, finished third.
The night ended with $20.80 outsider Zipping Trent (24.95s) winning race 12, a 440m grade five, for Lara trainer Robert Camilleri. In third place was Skittle for Justin Booker at Kilmany.
ON Friday night at Sale, Bill McMahon recorded two wins, beginning in race seven, the 440m mixed grade four and five.

After winning her previous start at Sale, Kasey Anne won in 25.03s, ahead of Got The Torque, trained by Robert Bean at Tinamba, and Lemonade Kid for Jenny Gieschen at Valencia Creek.
Dr Headley (25.22s) won the race 10 440m grade five, with Aston Kenji, trained by Gary McMillan at Nambrok, second.
The race two 440m maiden was won by Jimmy Goat Rose (25.27s) for Jeff Chignell at Rosedale, with Campanita third for Carolyn Jones.
Short-priced favourite Marshall's King, trained by Douch, won race three, the 440m mixed grade six and seven, in 24.98s, more than five seconds ahead of Take A Sunflower, trained by Shane Jack at Dalmore. Flywheel Frankey finished third for Sam Bye at Gormandale.
Harper's Girl (25.24s), trained by Bean, won race four, the 440m grade six. Timmy, trained by Kim McMahon at Darriman, led to the bend before finishing second, with Jenny Kay Rose third for Jeff Chignell.
Race five, the 520m event restricted to dogs with one to three wins, was won by Clan McMillan (28.87s) for McMillan.
Mad Eye Madam, trained by Ray Floyd at Cobains, was a chance to win in the straight, but finished second to Clan McMillan, who kicked away to win by a length.
Flywheel Bella claimed back-to-back wins for Bye, winning race eight, the 440m free for all, in 25.29s, by a head from Impending, trained by Clark. Bill McMahon's Sweet Demi finished third in a race which six of the eight dogs were in contention at the top of the home straight.

Jindivick (25.28s), trained by Robert Colpoys at Bass, won the race one 440m maiden by a nose from Jet Lee Rose, trained by Jeff Chignell, who finished strongly. In third place was Nathan Ryder, trained by Michael Delaney at Cobains.
Charango, trained by William Majoor at Tanjil South, produced a big finish to win race six, the 520m mixed grade four and five, in 29.55s, ahead of Demolition, trained by Lyn Smith.
Tank Slap, trained by Eddie Lieshout at Drouin, led until half-way up the home straight, but finished third.
Race nine, a 440m grade five, was won by Mt View Audrey (25.27s) for Trevor Whitford at Willow Grove, with Loaded second for Devon North trainer James Absalom and Diamond Cartel third for Maffra trainer Corey Fulford.
GREYHOUND racing will continue at Sale on Friday night.