Gyms and pools will reopen across regional Victoria from 11.59pm tomorrow night, but construction workers statewide must show proof of vaccination in order to keep working beyond next Thursday.
Ahead of predictions, 69.2 per cent of eligible Victorians have received a first dose of COVID-19 vaccine, meaning someone will receive the vaccine today and tip the state over its 70 per cent target.
In announcing the milestone, Premier Daniel Andrews said it was appropriate to allow some new freedoms to take effect.
In regional Victoria, indoor physical recreation facilities will open on Saturday, with 10 people allowed indoors and 20 outdoors per venue.
Indoor and outdoor pools can open with up to 50 people outdoors and 20 people indoors.
Hydrotherapy and swimming lessons may occur, however spas, saunas and steam rooms must remain closed.
To help the tourism industry, tour buses can again operate, with up to 10 people.
"I'm not overselling what this means for regional Victoria; they are small steps, but they are safe steps to take," he said.
"We have more cases today than we've had for a very long time, we have more people in hospital than what we've had for a very long time, and we have to balance this out.
"We're not at 70 per cent double dose, we're at 70 per cent single dose, and there is a big difference with that."
During his press conference, Mr Andrews said public health officials had become increasingly concerned about transmission and exposure in construction settings, with evidence that it emerging as a 'vector' of the virus into regional areas.
In light of the cases seeding from Melbourne into regional Victoria, construction workers will no longer be able to cross the metropolitan-regional boundary for work.
Mr Andrews said that goes both ways – for regional Victoria into metropolitan Melbourne and vice versa.
"We'll still have COVID safe ways in order to deliver supplies, that's much more a matter of freight," he said.
"We won't be seeing people who are driving for instance and taking timber from metro Melbourne to a regional building site, or concrete or gravel or whatever it might be – they will not be going onsite."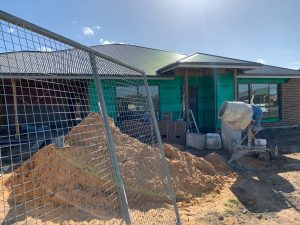 To limit further spread, construction workers statewide will need to show evidence to their employer that they have had a first dose of the COVID-19 vaccine by 11:59pm, Thursday, September 23, in order to continue working.
Limited medical exemptions and proof-of-booking exceptions will apply, in line with previous requirements for residential aged care workers.
Tea rooms will need to close and food or drink will not be able to be consumed indoors at work. Worker shift bubbles must be in practice and all sites will require a COVIDSafe Marshal onsite.
"…first dose by next Thursday is mandatory, that is required, no debates entered into," Mr Andrews said.
"The requirement is that the employer does not have unvaccinated people onsite."
Using Ballarat, Albury and Shepparton as examples where metropolitan workers have spread the virus into regional areas, Mr Andrews described the decision as "disruptive" but essential.
"If you're travelling back and forth from metropolitan Melbourne into the regions and back again then the virus will hitch a ride," he said.
"There will be support available for anyone who is adversely affected by this.
"We want to try and limit the impact on regional communities, and if we see all this construction movement then we will see more cases, and that will mean we have no choice but to lock down bigger and larger parts of regional Victoria."
Mr Andrews also announced some restrictions will also be "modestly eased" in metropolitan Melbourne from tomorrow night.
The most significant change for Melburnians is that they will now have one other reason to leave home – outdoor social interaction.
This means one person may meet another person not from their household for a picnic, a walk, or another outdoor activity.
Additionally, up to five adults (plus dependents) from two households will be able to gather outdoors if all adults present have received both doses of the COVID-19 vaccine.
Melburnians will have four hours for exercise or outdoor social interaction, increased from two, and the distance allowed to travel from home has been expanded from five to 10 kilometres.
Two people will be able to train outdoors with a personal trainer in metropolitan areas, and skate parks and outdoor communal exercise equipment will reopen.
Child-minding for school-aged children will be permitted if only one parent is an authorised worker, and up to five people will be able to attend an entertainment venue or physical recreation facility to broadcast a performance, class, or concert.
Real estate inspections will resume by appointment only in metro, but only people from the same household can attend the inspection appointment and the real estate agent must stay outdoors during the inspection.
The Premier reminded people he would be back on Sunday to release more details on what September, October and November would look like.
"It won't answer every question, and it won't necessarily provide every single rule change for months and months and months. It will be a meaningful document that will give people a really clear sense of what we're working towards," he said.
There were 514 new cases of COVID-19 announced overnight, bringing the total to 4370 active cases across Victoria.
One hundred and forty eight cases are linked, but the balance are under investigation.
There are 10 new cases in regional Victoria: three cases in Ballarat, four cases in Mitchell Shire, one in Murrindindi Shire, and two in Greater Geelong – all of which are primary close contacts of cases, and linked to existing known clusters.
More than sixty-one per cent of the new cases are in the northern suburbs of Melbourne, and about 25 per cent in the western suburbs.
There are 182 COVID-19 cases in hospital, with 51 people in ICU, and 29 on a ventilator.
Of yesterday's hospital numbers, 87 per cent were not vaccinated, 12 per cent are partially vaccinated, and only one person was fully-vaccinated.